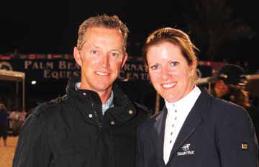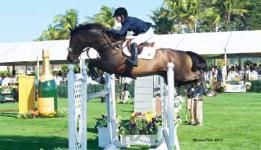 60 SIDELINES MARCH 2013
FOR HORSE PEOPLE • ABOUT HORSE PEOPLE
Horses led Christine and Jonathan McCrea to a partnership
in Windsor Show Stables and in life. Chris met her Irish-born
husband about 13 years ago during his holiday in the US. "When
I saw Jon on a horse for the frst time, I went 'wow, he can really
ride' and that was cool," recalled Chris. "He also had experience
with young horses and I lacked that. I liked his sense of humor
Jon admitted, "A mutual friend told me I had to meet this girl
and I asked 'why?' I was on vacation. I had zero intentions of
falling in love and getting married. It really snuck up on me when
I met Chris. Our mutual friend ended up being best man at our
Similar Yet Different
Chris grew up on the circuit competing in hunters, jumpers and
equitation from her home in Suffeld, Connecticut. In 1996 she
won the equitation fnals at the Washington International Horse
Show. She competed while earning her degree in Business at
University of Connecticut. She was named to the Developing
"That was my biggest eye opener to what jumping was like at
the international level," stated Chris. "After that, I wanted to keep
up that level of competition. My parents have been amazing. They
are totally behind me and love it. Two horses, Promised Land and
Vegas, taught me almost everything I know. You couldn't have
two more different horses. They got me started internationally.
They could show at any venue, anywhere in the world. That's
really special. It was a nice time in my life."
Vegas retired to stand at stud with a friend of the McCreas.
Promised Land, still doing his thing, is on lease to Charlotte
Jacobs. "I have a couple of older Junior Amateur horses who are
still kicking around," said Chris. "We do the best we can to see
them into good homes when they're fnished showing. Promised
Land will be the next to retire."
Jon grew up in Northern Ireland. He quit school when he was
15 and didn't tell his parents for an entire year. "I got on the bus
and then took another bus to Roy Workman's yard. He paid me 50
quid a week, about $100, and I rode 15-20 horses a day," recalled
Jon. "My parents weren't happy when they found out, but they
knew my determination. Always as a kid I knew what I was going
Jon rode ponies for Ireland in show jumping competitions (1986
and 1988). At 16 he moved up to horses in the juniors and at 18
competed in young riders, winning three national championships
before he turned 21. He won the four-year-old championship once
in Dublin. "Everyone in Ireland is a seller," explained Jon. "You get
a nice young horse and get it going well. I actually sold some nice
In 2000 Jon relocated to America. "Coming to live here – that
was a shocker," he said. "Back home we could take 17 horses to
a show over the weekend and, at the time, 500 quid would cover
all the expenses for two days of showing. Everyone would live in
the horse truck. Here, it's very different."
On The Circuit
Life has dished up some memorable moments for the McCreas.
At the 2011 Pan American Games in Guadalajara, Mexico, Chris
put in fault-free jumping rounds with Romantovich Take One,
helping the US show jumping team to decisive victory.
"I've been all over the world with Chris," stated Jon. "I am so
proud of her, it was so incredible in Guadalajara when she won
team gold. That was quite a day. Then she rode in the individual
medal round, second last to go, and she jumped clear. Then
Beezie went in. We fgured Chris had the silver, but Beezie had a
time fault. I was, like, 'Oh my God! Chris you just won!' It was so
They are a wee bit competitive, and Jon said, "We're really
there for each other, yeah, but don't get me wrong. I love to kick
her ass! I was third in the million-dollar class, she was ffth. At
Hampton Classic I was ffth in the World Cup with Colorado, and
and the following day I was third, she was ffth.
We have an in-house rivalry. We give each other little jabs, we
joke about it, but it's all in good fun."
They are in it to win. They don't sell horses. They scout out
young prospects to bring them along for themselves. "We try to
get the suitability right the frst time out," said Chris. "We don't
look to sell them. If someone wants to pay the high price we set,
Jon and Chris travel extensively here and abroad, competing
and looking for the next young horse. They work with Allan
Jonathan and Christine McCrea at the 2013 Winter Equestrian
Continued on page 62
Christine competes at the Trump Invitational at Mar-a-Lago at
the beginning of the 2013 winter circuit in South Florida.