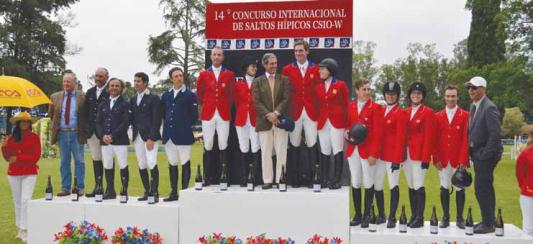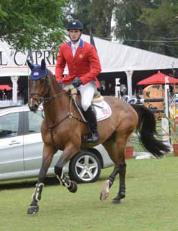 74 SIDELINES MARCH 2013
FOR HORSE PEOPLE • ABOUT HORSE PEOPLE
The United States team enjoys the center spot on the podium.
Riding As A Team
There was a great sense of team camaraderie between the
riders and our Chef d'Equipe, Norman Dello Joio. Catherine and I
were both on our frst team and Charlie and Alison had both had
experience before, so they could guide us a little bit and give us
some tips as we went along. Beezie Madden was there to help
Charlie and Alison, so she could also help us both, which was great.
On the day of the Nations Cup, we all walked the course together.
Everyone gave their input and Beezie and Norman gave us some
tips. It was different walking the course as a team. There was
a feeling of unity. When you walk a course normally, you want
everyone to do well; but you want to do the best. There, it felt like
everyonewasreallybeingopenandwantedeveryoneelsetodowell.
Having Norman there as Chef gave me a lot of confdence
because he is also my trainer at home. He has been helping
me for about a year-and-a-half and he has known Carotino
since the day we got him. He has been at that show himself
and showed in the Nations Cup there several years ago,
so he also knew how it works there and the size of the jumps
and the technicality of the courses. That was really helpful.
Carotino was clear in the frst round and had one down in the
second round, which was completely my fault. He was jumping
really well. The course suited him well because it wasn't huge, but
there were a few diffcult technical lines. He jumped perfect in the
frst round; I don't think he touched a jump. In the second, I was
more relaxed and I did one extra stride in the frst line and had the
front rail of the oxer down because I got too deep. I think I actually
rode better the frst round when I was more nervous!
I think the course was a good test because the competition was
hard. There were two or three teams there that had really solid,
experienced horses and riders. The biggest competition was
The Thrill of Victory
It was a very exciting moment when we realized that we had
won. In the frst round we had three clear rounds. Catherine
had a few jumps down - her horse was being really careful
and over jumped; but we went into the second round on zero.
In the second round, Charlie was clear again, I had one down
and when Catherine was clear and we knew that the worst we
could do was be on four faults. Canada was the closest and the
best they could do was eight faults. After Catherine jumped clear,
we knew that Alison didn't have to go and we had won, which
was really exciting. Everyone was happy and jumping around!
The presentation was a big awards ceremony. Carotino is normally
extremely spooky; but he stood like a soldier the whole time. We
had the victory gallop, national anthem and sprayed champagne!
It was a long ceremony; but it was really cool for all of us.
It was such an honor to represent our country and win. It has
been a goal of mine for a long time to ride on a team. I want
to continue riding on the team and I hope that now this will give
me more chances. It obviously feels good to win any time; but it
feels really good when you have three other people there that
won with you. I think we will all remember it for a long time and
I hope it is the frst of many Nations Cup experiences I can do.
About the Writer
Quentin Judge rides for Double H Farm with stables in Ridgefeld, Connecticut
and Wellington, Florida. Judge, 26, showed in his frst grand prix in 2011 and jumped
his top mount HH Carotino to a clear round in his frst USEF Olympic Selection
Trials in Florida last winter. Judge grew up in Chicago and has ridden with many
top trainers, including Alex Jayne, Missy Clark, Joe Fargis, Jack Stedding, Linda
Andrisani, Jan Tops and Margie Engle.
"My Story" is a frst person account of life in the equestrian world. Would you like to write your story for Sidelines Magazine? To
be considered, send a brief description of your story to editor@sidelinesnews.com.