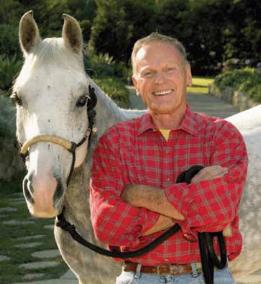 76 SIDELINES MARCH 2013
FOR HORSE PEOPLE • ABOUT HORSE PEOPLE
met my friend, Tab Hunter, about 40 years ago at
Cedar Lodge Farm in Stamford, Connecticut, where
my husband Victor Hugo-Vidal and I had our show
barn. Tab's warm, friendly personality, endless energy and
handsome good looks were irresistible and we immediately
became friends and have remained as such ever since.
He visited us several times in Stamford and often rode many
horses. I remember him being a very good rider. He taught me
things back then that I still fnd helpful. A few years later in Dallas,
Texas we were both trying horses at a show. I recognized his
unmistakable voice (similar to George Morris') before I actually
saw him. I ran into him again a couple of years ago at a show in
Del Mar, when he came down from his home in Santa Barbara to
Tab Hunter, born in New York City, moved to California as a
young child with his mother and has remained out here other than
briefy living in the south of France. He has enjoyed a successful
movie career, starring in over 40 movies from 1950 to 1996, co-
starring with famous actresses such as Natalie Wood, Sophia
Loren and Debbie Reynolds. He was honored with a star on the
Recently I caught up with Tab in Santa Barbara and asked him
a few questions for my column, starting with the most obvious one
regarding his name. It turns out that his real name, Arthur Gelien
(which was his mother's maiden name) didn't appeal to his agent
who said, "We need to tab you something." Another person in
Tab Hunter – Hollywood movie
star and real life horseman.
the room said, "Well he rides hunters and jumpers, what about
Hunter?" Hunter, being the better choice than jumper, he then
became Tab Hunter. At frst Tab didn't like his new name; but
his agent insisted that when he saw it on his frst paycheck, his
opinion would change! He was right!
Tab became involved with horses because his brother, whom
he greatly admired, rode. At the age of 11 he participated in
group lessons every Saturday at a stable called Dubrouck's
Riding Academy (near Griffth Park). To earn more riding time,
he became a stable boy. He did a lot of riding and showing during
his time at Dubrouck's. He enjoyed going to watch top riders at
shows, such as Barbara Worth, Clyde Kennedy and Otto Russo
to name a few of the all-time greats in those days. Eventually, Tab
trained with Clyde Kennedy and Jimmy Williams. He rode hunters
and jumpers, but preferred the excitement of the jumpers.
Tab, with the help of Arthur Hawkins, Danny Lenehan and
Victor, got his judges license and enjoyed judging throughout the
country. Tab went back to New York to The Garden (Madison
Square Garden) to watch the horse show and was introduced to
George Morris who was just out of juniors and riding on the (USET)
team. At that time, Tab didn't know anyone and George agreed to
introduce him to people and they became lifelong friends. It was
then that George introduced Tab to Victor.
Tab decided to board a horse at Cedar Lodge Farm. "Even
Standing on the ground in Santa Barbara in 1956 is Mousie
Brinkman, before she became Jimmy William's wife. Mousie is
holding Battlin Bim and Tab is holding Swizzlestick, the mare
Tab in his early movie days.
Continued on page 78