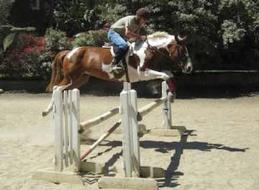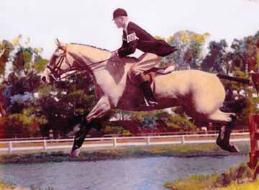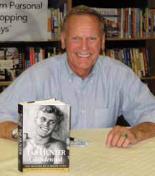 78 SIDELINES MARCH 2013
FOR HORSE PEOPLE • ABOUT HORSE PEOPLE
Tab on Harlow, his current Dutch Warmblood Pinto mare. At age
81, Tab not only rides, but jumps!
Tab on Lonesome Road, a 17 hand Buckskin Quarter Horse, in
Sacramento, California on the cross-country course
though I was an actor; I was
around horses than in the movie
industry!" Tab said, calling his
involvement with horses a "touch
Tab rode every chance he got. When he was flming in different
countries he managed to get away and ride, whether it was
foxhunting in England or hacking in Spain. Through George, he
met Francisco "Paco" Goyoaga, one of the fnest riders of the '50s
who represented Spain in three Olympics. "If you're a horse lover,
you've always got friends!"
When asked whom he most admired in the horse world, he
said, "There are so many, different ones for different reasons! I
watched and admired Rodney Jenkins, Barney Ward and Diane
Grod when they showed in California. I admired George Morris,
Bobby Burke and Cappy Smith! How could you not admire people
like that? How could you not admire Humberto Marilas? I watched
the Mexican team when they came out here and competed at The
Forum in Los Angeles. Then the magnifcent hunter riders from
out east like Linda Hough and Gene Cunningham and Bobby
Burke! Susie (Hutchison) and Hap (Hansen) were just juniors in
In the '60s, Tab realized the importance of acquiring a good
dressage base. Bert de Nemethy, legendary coach of the USET
jumping squad for 25 years, was "a genius"! Tab watched Bert
work with George Morris, Frank Chapot Bill Steinkraus and
Mary Chapot in New York at the Uttermeyer estate prior to the
headquarters in Gladstone, New Jersey. Mary Chapot, from
California, was "one of the most brilliant riders I had ever seen!"
Tab pointed out that years ago many of the great hunter and
jumper riders in California began as Western riders, such as
Barbara Worth, Clyde Kennedy, Otto Russo, Jimmy Williams and
Don Dodge. The riders in those days were very versatile. "A good
When asked about his most memorable moments with horses,
again Tab said "Different ones for different reasons." On his 80
birthday his partner, Allan, surprised him not only with a party with
a lot of horse people but by bringing back the mare he had bred
and previously donated to the all-girls school in Chatham Hall,
Virginia. Not only was the party a surprise but turning around and
seeing his mare "Harlow" standing there was overwhelming! "I
totally lost it!" Tab said. He rides her daily and takes great care
Tab rode horses in several
flms; the frst was "The Burning
Hills" with Natalie Wood, "They
Came to Cordura" with Gary
Cooper and Rita Hayward as
well as in "Gunman's Walk" with
Van Hefin. The mare he used was too hot for the show ring but
loved being in the movies! "She was cut out for the movies; she
thought she was Marilyn Monroe!" Tab laughingly said.
Currently, Tab spends his days walking his dogs (Whippets) on
the beach and then going to the barn and either riding his mare
on the trail or doing fatwork and gymnastics in the ring! Tab loves
this and said he is the happiest when he can ride and be around
horses and would have chosen to be a professional had he not
thought he'd make a better living acting.
I was so inspired by Tab's never ending enthusiasm for life,
his love of people and animals and the fact that at age 81, he not
only rides, but jumps! Well, too, I might add! As the writer of the
West Side Story column for Sidelines, there is one tidbit I want to
point out: Tab had the leading role as Tony in the stage production
of West Side Story (in Meadowbrook, New Jersey.) He was in
numerous stage productions, but I singled this one out for obvious
"Even though I was an actor, I was
always more comfortable around horses
than in the movie industry!"
Tab jumping a 6' puissance wall
at The Forum on The Coach.
Tab at a signing for his book
The Making Of A Movie Star."
All photos courtesy of Tab Hunter
Holly Hugo-Vidal is Sidelines' California correspondent and writes the "West Side
Story" column. Holly is located in Rancho Santa Fe, California. Holly specializes in
hunters and equitation as well as adults. She is an "R" USEF judge, clinician and an
author. Her most recent book is "Build Confdence Over Fences."