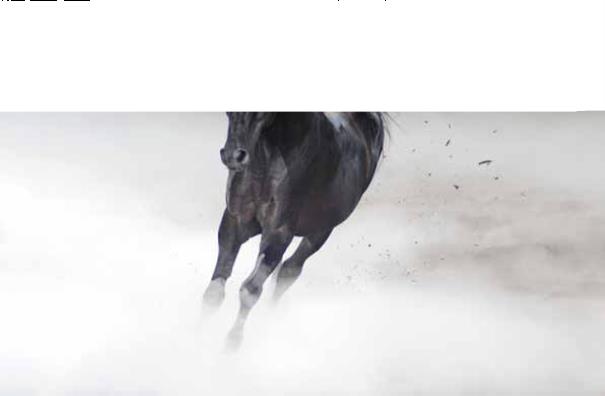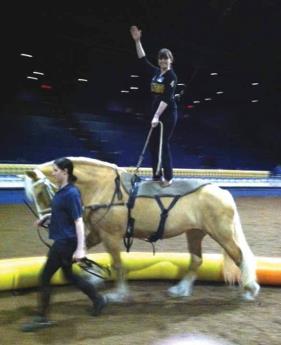 100 SIDELINES MAY 2013
FOR HORSE PEOPLE • ABOUT HORSE PEOPLE
Continued on page 102
trip to Orlando, Florida has always been magical
thanks to Mickey Mouse and his friends - but
for horse people there's more than lovable mice
and boy wizards in Orlando. There are horses!
Arabian Nights, a dinner show featuring a cast of Arabians, as well
as 15 other breeds, is a horse highlight and always on my "must
see" list when I am in the Orlando area.
If you haven't experienced the show in the Palace of the Horses
(the name for the Arabian Nights venue), envision Broadway style
performances – fancy costumes, lights, music and storyline all
done on horseback while you sit in the audience enjoying your
dinner. And if sitting in the audience seems too tame for you –
if your goal is to be part of the action - then you can put on a
harness, climb aboard a draft horse and be part of the show in the
Arabian Nights "Performer For A Day" experience.
When my daughter Abby and I decided to be Performers For A
Day on a recent trip to the Orlando area, we weren't sure what to
expect. We had been to Arabian Nights many times, but always
enjoyed the show from the vantage point of our seats in the
audience. My brother and his family joined us on the adventure
– a journey that turned out to be more magical then anything the
mouse has ever provided on a visit to Orlando. (Yes, I said it and
it's true – and Abby and I now want to run away and join the circus
– or at least Arabian Nights!)
Training For The Show
We arrived at Arabian Nights early in the afternoon and were
taken to the barn to meet our trainers for the day – Charlotte
Reynolds and Ricky Suarez, who also happen to be the stars of
the show. Charlotte, originally from England, grew up in South
Most horse people have tried standing on their horses, and
Abby learns the proper techniques during training.
Photo by Jan Westmark-Allan
Photo courtesy of Arabian Nights