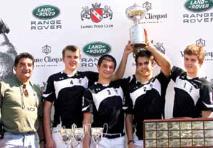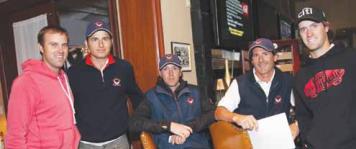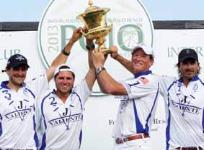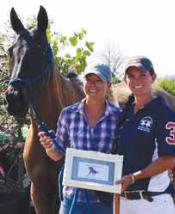 114 SIDELINES MAY 2013
FOR HORSE PEOPLE • ABOUT HORSE PEOPLE
Natania
proved what a difference a year makes as
Connor Deal, Wyatt
Harlow, Drew Peterson
Kamran Pirasteh
through the season. The Warrenton, Virginia-based team earned a slot
in the national fnals tournament with their decisive Southeast Regionals
victory (24-13) in a hotly contested match in February against
Cowtown
Work To Ride
, the defending Open National Interscholastic champions.
In March the Natania team, their coach
Amir Pirasteh,
Natania supporters few to Indio, California where
Empire Polo Club
hosted the national championship tournament. In the championship match,
Natania earned the national title with a 14-9 victory over
Eldorado
Jake
Brumby, Scott Cunningham and Jacob Deutsch
Interscholastic Champions Natania: (left to right) coach Amir Pirasteh,
Drew Peterson (alternate) and All Star Players (voted by their peers) Wyatt
Harlow, Kamran Pirasteh and Connor Deal.
Does your barn or organization have news, tidbits or announcements you would like to share in the Asides column, dedicated to polo news. It can be
something as fun as a wedding announcement, new horse purchased, upcoming clinics or exciting wins. Send to editor@sidelinesnews.com.
The world's best polo players gathered at
International Polo
Club Palm Beach
to participate in the "draw" for the
USPA
Piaget Gold Cup
Cup winning team each received a luxury
Piaget Polo FortyFive watch. Taking part
in the draw: (from left to right):
Gonzalito
Pieres, Marcos Bignoli, Polito Pieres ,
Juan Villamil
Nico Pieres
USPA Piaget Gold Cup
was a heated competition among
some of the world's best polo
Valiente
triumphed and defended their
title with a 13 to 9 win. From
Pelon Stirling
Santi Torres
Bob Jornayvaz
Adolfo Cambiaso
Cambiaso and Pelon Stirling
are among the world's best
polo players, both ranked as
UCONN Girls Interscholastic Team
won the national championship this on
their home feld in Storrs, Connecticut. The UCONN team took home the title in a
nail-biter fnal against defending champ, Maryland, which was tied at halftime and
eventually decided in a shootout. The fnal score was 17-16. Left to Right:
Carly
Persano, Leslie Field, Sara Tufts, Coach Caitlin Tufts, Kathleen Moriarty,
Maddie McDougall.
Photo courtesy of the USPA
Rude Girl Polo
Cecilia
Cochran, Sophie Kyriazi, Courtney
Asdourian
Ali Henderson
winning the 2013 Tabebiua Cup! Rude Girl
Michelob Ultra
close and competitive fnal. Rude Girls
came from behind the last chukker, with
a fnal score of 5 to 4.5.
Allie Henderson
was Most Valuable Player and
Cocoa
Tiffany Busch
was Best Playing Pony. From left to right:
Christina Clark
Tiffany Busch.