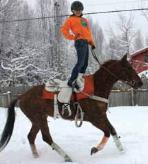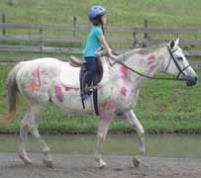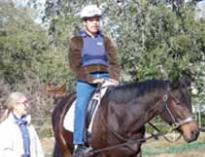 128 SIDELINES MAY 2013
FOR HORSE PEOPLE • ABOUT HORSE PEOPLE
The off-the-track-Thoroughbred (OTTB) Photo Contest that
Sidelines ran on our website and Facebook page showcased the
Thoroughbred breed in many wonderful ways. One of the things
I liked best was the opportunity to see the versatility of the breed.
While many former racehorses succeed
in the show ring, it made me smile to see
how many OTTBs have careers that have
taken a slightly different path.
Patricia Salontal, of Anchorage, Alaska,
has the ultimate all-around Thoroughbred.
She bought Magnum's Ferrari, who raced
under the name Buffalo Pride, two years
ago in Washington as a four-year-old,
where he had been re-started by EquineMakeovers. Patricia fell
in love with his laid back personality and his try-hard attitude. She
few him to her home in Anchorage, where he has explored many
different disciplines including life as a hunter, jumper, eventer and
barrel racer. What Magnum seems to excel at most, however, is
trick riding. Check out his photo of Magnum and friend Kaylee
practicing their trick riding in the snow.
Karen Benson, of Mooresville, North Carolina, has proven that
the OTTB can multitask! She rescued Kitt, a 10-year-old OTTB
(race name Money Makes Money) from Gulfstream Park after
an injury. Kitt competes during the week as a show jumper then
hits the trails as a western trail horse in the mountains of North
Another former racehorse who has found a new career is
Princess Madeline, an OTTB who was rescued from slaughter in
2011. Nina Eckhoff, of New Canaan, Connecticut, owns Maddie
and has watched as natural horseman Billy Smith, of Thurman,
New York, has guided Maddie in her new non-racing life. Forging
rivers, herding cattle – Maddie can do it all.
The equestrian world needs wonderful
lesson horses, and Ella, who raced
under the name Tom's Cutie, is just that.
Ella, who lives in Staunton, Virginia with
Jessica Welch, raced fve times and never
placed. The sweet mare is now 25 years
old and is a winner as a lesson horse
(and an art project). Thank goodness for
Lily, a nine-year-old OTTB who raced as a two and three-
year-old under the name Mac's Zone, was near starvation when
the Bluebonnet Equine Humane Society in Texas rescued her.
Lily now lives at the Equibloom Therapeutic Riding Center near
Austin, where she spends her days as a much-loved therapeutic
riding horse. Equibloom founder Meshelle Rives says, "Lily has a
new and meaningful purpose and is loved by many. She is now
home and safe and is our 'Lovely Lily'."
The Bottom Line:
Not everyone can adopt a horse, but we can
all still make a difference. Think about the motto (in the blue box)
that so many horse and dog rescues adhere to – the bottom line
is that in some way, shape or form, we can all help.
Former racehorse Magnum's Ferrari
enjoys life as a trick horse with rider
Kaylee in Anchorage, Alaska.
Maddie, an OTTB rescued from slaughter,
crosses the Hudson River in New York
with natural horseman Billy Smith.
If you can't adopt, foster.
If you can't foster, sponsor.
If you can't sponsor, donate.
If you can't donate, volunteer.
If you can't volunteer, network!