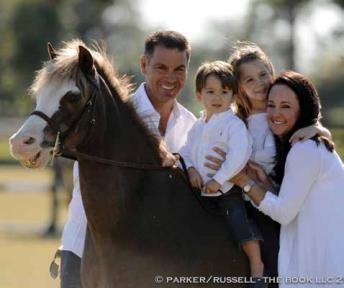 26 SIDELINES MAY 2013
FOR HORSE PEOPLE • ABOUT HORSE PEOPLE
As the Vermont Summer Festival
prepares to celebrate its 20th year in the
Manchester area, there's one rider who has
consistently been along for the ride. While
it was the ideal weather that originally
attracted Jimmy Torano to Vermont, it's
the quality of the competition and a family
connection that keeps him coming back
"The main thing that attracts everyone
is the weather," says Jimmy, 48, who
competes alongside his wife, Danielle.
"Then my uncle started coming to the
Vermont Summer Festival to watch us
compete and he liked it so much that he
decided to build a house there and got
involved with buying horses."
Torano's uncle, Ruly Torano, was a
huge supporter of the Vermont Summer
Festival. In 2007, he established the
$10,000 Sir Ruly Open Jumper High Score
Award, recognizing the top three leading
grand prix riders over the course of the
six-week circuit. Following his death in
2010, the Torano family has continued the
sponsorship in his honor.
In homage to the Vermont area where he
kept his summer home, Ruly Torano even
named one of his horses Ormsby Hill. It was another horse
he owned, Lancier IV, that Jimmy rode at the 1999 and 2000
World Cup Finals and in the 2000 Nations' Cup in Aachen,
Germany. Danielle, 39, also competed at the World Cup Final
in 2008 riding Vancouver d'Auvray and was a member of the
winning U.S. team in the 2008 Nations' Cup competition in
Wellington, Florida, riding Marlo.
Based in Ft. Lauderdale, Florida, Jimmy and Danielle
typically bring 30 horses to the Vermont Summer Festival
each summer, and this year will be no exception. However,
there will be some smaller mounts on the trailer for Jimmy
and Danielle's children. Natalia, age six, will be showing in
the short stirrup division while Jimmy Jr., who turns three in
June, will be delighting the crowds in the leadline competition.
Meanwhile, mom and dad will be competing in both the
jumper divisions as well as in the new Hunter Derby series,
featuring a weekly $5,000 3'3"Hunter Derby as well as a
$15,000 Hunter Derby during the sixth and final week of the
"The derbies are great," said Jimmy, who won week five's
hunter derby in 2012 riding the aptly-named Winner.
In addition to staying in one place for six weeks, another
advantage of competing at the Vermont Summer Festival is
that the Torano's have an opportunity to spend time together
as a family. One aspect that they particularly appreciate is the
weekly exhibitor's parties hosted each Wednesday by show
organizers John and Dotty Ammerman.
"Nowadays, the business has gotten so all-consuming that
not many shows offer exhibitor parties anymore," reflects
Jimmy. "In Vermont, they make a huge effort to have a party
each week and give back to the exhibitors. We try to attend
those, especially now with the kids. It's really nice."
Jimmy continued, "It is great to come here and be able to
stay in one place instead of having to pack up and move the
whole operation each week. We like the show, it's low-key,
and offers something for all the clients. It's laid-back, and you
can step young horses up to the grand prix level. It is one of
the few horse shows where we can do that."
As for their annual journey to Manchester, Torano says,
"It is a great area with great restaurants. We love coming to
Vermont each summer. It's become a second home."
Popular among the horse show community as well as with
the local townspeople, there is sure to be a large cheering
section for the Torano family at this year's Vermont Summer
The Vermont Summer Festival runs July 2 through August
11 and offers more than $750,000 in prize money over the six
week circuit, making it the richest sporting event in the state
of Vermont. For more information, please visit
www.vt-summerfestival.com.
The Torano Family: Jimmy, Jimmy Jr., Natalia and Danielle.
Photo by Parker/Russell - The Book LLC