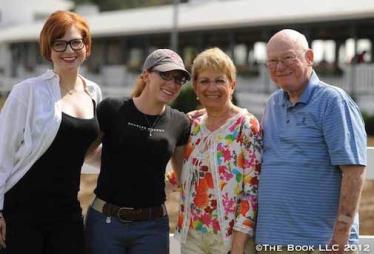 28 SIDELINES MAY 2013
FOR HORSE PEOPLE • ABOUT HORSE PEOPLE
Britta Lippert is the frst to admit
that riding is "the most amazing
addiction." Britta has four horses and
says her favorite thing to do when
she is riding is jump. "There are no
words to explain the rush of jumping
over a fence." Sidelines caught up
with the talented rider to fnd out more
about teaming up with trainer Ronan
McGuigan, riding in the adult amateur
jumper division and the infuence her
father had on her life. "I was blessed
with a father who understood my
passion for riding and stood behind
the notion that no dream is too big.
He is the reason that I continue to
pursue my dreams today, and he will
be the reason why they come true,"
What is it like training with Ronan
McGuigan?
Last fall I became a member of
the Hermitage Farm team headed
by Ronan McGuigan. I have known
Ronan for a couple of years, but just
recently made the move to his Far
Hills, New Jersey location with two of my horses. He is an amazing
jumper trainer and grand prix rider who has really brought my
riding in the jumper ring to the next level.
What do you consider your biggest riding accomplishment
so far?
To date, my biggest riding accomplishment would have to be
participating in the hunter derbies both at WEF and Lake Placid
last year. Even though I didn't do that well in the standings, I tried
something new and explored some boundaries for myself and my
horse Jay. He made jumping the high options easy even when I
Do you consider your father to be the biggest infuence on
your life?
Yes, my biggest infuence, in both my riding and my life, was my
dad who passed away last year. When I started competing with
my frst horse, he used to get so into it. He loved the competition,
and I loved how much it allowed us to bond. He always supported
my love of the sport; he took me to all my lessons and he never
missed a show. He was the best horse show dad a girl could ask
for. He wanted nothing more than for me to do well.
What is your favorite horse show?
Lake Placid is my favorite horse show because it is where
everything really began for me. I came to Lake Placid for the frst
time in 2006. My dear friend, Courtney Caverzasi of Hermes,
convinced my parents to allow me to bring my horse Placido. It
was my frst big show and it turned out to be the best experience
of my life. Since my frst day there I have met some of the most
amazing people and have made so many new friends. The Lake
Placid Horse Shows have the most perfect setting. To be up in the
mountains and have the ski jumps right behind you is a completely
different world. There is no other show like it.
What was it like being champion both weeks at Lake Placid
last year?
Last year was such a whirlwind. Week one, I brought my horse,
VZ, into the Low Adult Jumpers, hoping just to get around. We
had just recently bought him a little less than a year prior, but had
been having a diffcult time fguring him out. As a little frecracker
of a horse, VZ was completely out of my comfort zone due to his
natural speed and readiness to jump. Nevertheless, during both
weeks he and I seemed to click.
Do you have a favorite horse show memory?
I have so many amazing horse show memories, but my all
time favorite has to be back when I was 12 or 13 years old. I
was training with my frst trainer, Crystal Young, doing the pre-
children's hunter and equitation divisions on the local Monmouth
County circuit. It was the last show of the season and of course
my family had planned a vacation. Last minute, my dad decided to
interrupt the vacation and fy us back to New Jersey for two days
just so I could compete in the last show. Oddly enough, I ended
up champion in both divisions. My dad was so happy – you would
have thought I had won the Olympics!
What are you studying in school and what are your plans for
a career?
I'm currently studying at Monmouth University in New Jersey
as a Biology major. Even though it has taken a little longer than
expected, I'll be gearing up for graduation after this coming fall's
semester. I have always wanted to become a veterinarian and will
be applying to vet school soon.
Britta Lippert, second from left, with her sister Angelina, mom Diane and dad Regis at the
Photo by The Book LLC 2012