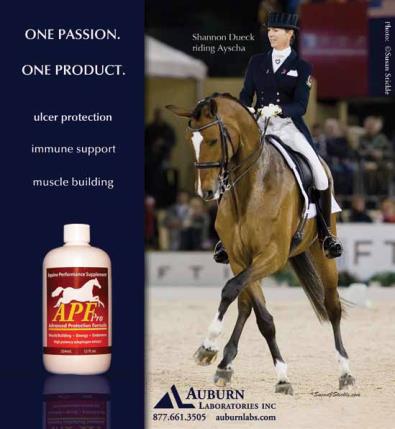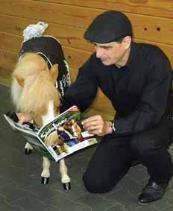 34 SIDELINES MAY 2013
FOR HORSE PEOPLE • ABOUT HORSE PEOPLE
Congratulations to 11-year-old
Sophia Pilla
Lainie Wimberly
of Brigadoon Show Stables. Sophia had an
incredible WEF season with many championships, reserve
championships and pony medal wins. Many of the wins were on
her six-year-old children's hunter
Poprocks
Greystone's Star Bright
children's pony hunters and rode
Champlain's Larkspur
Kent Farrington's
Uceko
Voyeur,
are now being sponsored by
Biostar EQ
been on Biostar formulas for a year and now join other successful
horse and rider combinations on the Biostar Team.
Everyone in the Colorado riding community sends out heartfelt
Dr. Terry Swanson
Littleton Large Animal Clinic.
His family, friends and clients are hoping he makes a speedy
recovery...and they want to thank him for all he does. He is loved
and respected by so many two-legged and four-legged friends.
SPCA Albrecht Center for Animal Welfare
South Carolina, is offering a Low-cost Vaccination Clinic at 199
Willow Run Road from 10 am to 1 pm. on Thursday, May 9th.
Continued on page 36
Hamlet
Gentle Carousel
Miniature
Therapy Horses
Jorge Garcia-
Bengochea
Connecticut was featured in "The Bottom Line" in the March
issue. Let your horse read it, too!
Enjoy "Yappy Hour" at the same location from 5:30 pm - 7:30 pm.
And on Saturday, May 11th, bring your dogs to the Summer Dog
Wash at Cold Creek Nursery, from 10 am - 2 pm, at 398 Hitchcock
Louisa Davidson
Aiken, South Carolina and will
be the offcial photographer
The Horse Show in the
Woods
photograph or paint your dog,
horse or child, get in touch
with her at 970-274-0658 or
at louisadavidson@sopris.net
or louisadavidson.zenfolio.com.
Get ready for some fun in
The Colorado
Horse Park
their extended Summer in the
Rockies series. The AA-rated
Pat Boyle
Showplace Productions
will run for six weeks in June
and July. During the off week,
Emerging Athletes Clinic
Cynthia Hankins.
The Gaston
Livery Stable
Aiken, South
Carolina,
U-shaped barn with a carriage
lift in South Carolina and
possibly the last in the United
States. It has played an integral
part in the history of equine
sports and the Winter Colony
Cats Meow Gala
and Auction
Friends of the
Gaston Livery Stable