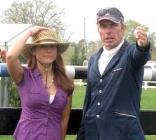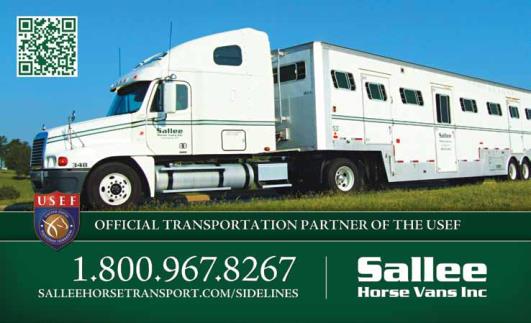 36 SIDELINES MAY 2013
FOR HORSE PEOPLE • ABOUT HORSE PEOPLE
fberglass cats painted and dressed up by artists will be offered to
the public on April 13 at the
Aiken County Historical Museum.
Is your horse a hard keeper or you think their diet could be
better? Well you're in luck
! Biostar EQ
charge consultations regarding your specifc horse's issues and
getfood@biostareq.com.
a larger barn that could beneft from an on-site visit, Biostar can
arrange for those as well!
A new fall Florida grand prix was just announced. In its second
Southeast Medal Finals
$25,000 Land
Rover of Jacksonville Grand Prix.
After the huge success of last
year's show, the expanded dates for this year's A-rated show are
September 19-23, 2013. Hold on to your hard hats -- Land Rover
of Jacksonville will offer some off-road test rides during the show.
Daniela Stransky, Emanuel Andrade, Jose
Fernando Bonetti, Victoria Karam, Gustavo Machado, Maria
Gabriela Brugal
Maria Jose De La Torre
more than one team during the Hollow Creek Farm FEI Children's,
Junior, and Young Rider Nations Cups at the 2013 FTI Consulting
Winter Equestrian Festival on March 2, 2013. The talented teens,
Mario Gamboa
Juan Oritz
both their own country's team as well as part of
"Team Step by
Step,"
a group of riders of all ages who help raise awareness for
Research shows that changes in the batch or type of hay you
give your horse can increase his chances of developing colic
Dr. Lydia Gray, SmartPak's Medical Director
,
SmartDigest® Ultra
unparalleled GI protection. In addition to making hay changes
gradually over 7-10 days and keeping up with regular veterinary
Continued on page 38
care, giving your horse SmartDigest® Ultra in SmartPaks is the
best thing you can do to support his digestive balance and help
lower his risk of GI upset.
Sidelines Magazine is the Offcial Lifestyle Magazine of the
Jersey Fresh International Three Day Event,
year, which returns to the Horse Park of New Jersey in Allentown,
New Jersey May 9th through 12th. This year, the Three Star event
Offcial Observation Event
for team selection for the
World Games.
Sponsorship opportunities are still available as are
tail-gating spaces on the cross-country course and ringside during
the stadium jumping phase of the event. For more information on
sponsorship, contact Lisa Engel
at 908.310.6248 or l_engel@
Gulf Coast
Classic Company
Wilhelm Genn.
Jill
Zednick
of Biloxi, Mississippi won the contest and had the opportunity
to hear from the German-born grand prix rider Wilhelm Genn
on how to tackle the course. Obviously his advice worked,
since his son and professional rider
Theo Genn
class aboard Bridlebourne Stables LLC's Winchester.