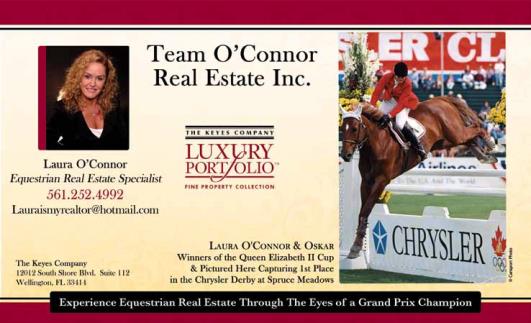 40 SIDELINES MAY 2013
FOR HORSE PEOPLE • ABOUT HORSE PEOPLE
reality show. Diana may not be a great cook, but she is a
Louis
Gretchen Heffner.
four AQHA shows, Gretchen qualified Impressibility
for the AQHA World Show in the Amateur Aged Halter
Geldings and also was Year End Reserve Champion for the
state of South Carolina. Louis showed Chance to Year End
Grand Champion for the state of South Carolina in Open Aged
Halter Geldings. They both won amazing silver belt buckles!
They are hoping 2013 is just as great.
James Lala
has expanded services at his
Wellington
Quarantine.
He's back in the saddle training and showing.
Carento
Sherri Crawford
and Carento was champion in the First Year Greens with
Louise
Serio
during Week 8 at FTI WEF. James has also been riding and
Jill Knowles
Lisa Greenspon's
Cesares
in the Baby Green Hunters also during Week 8.
Does your barn or
organization have news,
tidbits or announcements
you would like to share in
the Ingate column, dedicated
to hunter, jumper, eventing
and foxhunting news. It can
be something as fun as a
wedding announcement, new
horse purchased, upcoming
clinics or exciting wins. Send
to editor@sidelinesnews.com.
Master for the Tryon Hounds, said the new home will house their
Jordan Hicks
and his family. Tryon Hounds Board
Art Lazarus
, a builder, will oversee the construction
along with the Building Committee. Anyone interested in making
a donation to the Tryon Hounds Huntsman's residence, please
Nelson Minnick
Congratulations to professional photographer
Diana De
Rosa
! She was presented with the
6th Annual Photography
Masters Cup
Nominee title in the category of Sport at
a prestigious Nomination & Winners Photoshow. All the
Diana out of the kitchen,
Food
Network's
"Worst
Cooks in America"
It was a sweet Valentine's
Cappy Peterson
jumper and reiner tied the
Dr. Vernon Dryden
an equine podiatrist from
Cole