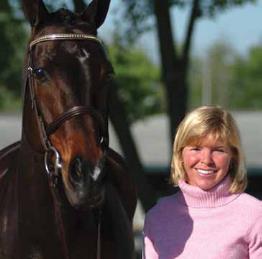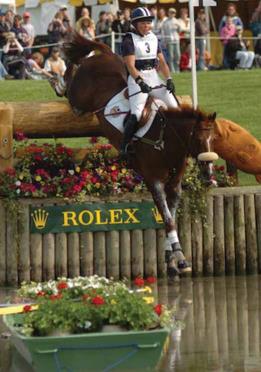 42 SIDELINES MAY 2013
FOR HORSE PEOPLE • ABOUT HORSE PEOPLE
Jan Byyny, Team SmartPak three-day event rider since 2004,
has put heart and soul into her competitive comeback after
unusual consequences following a cross-country fall in February
of 2010. "I've had much worse falls," stated Jan. "I broke my arm,
hit my head, but it was just a concussion, my frst ever – knocked
me out for about a minute-and-a-half. The worst thing was my
broken arm. I went to the hospital and seven hours later I had a
stroke from a leak in the carotid artery."
The only part of Jan's brain affected by the stroke was the
language center. "The biggest consequence is talking – I work on
it every day. I have to think about every word, every sound I make
every time I speak," Jan said. "It's one of the hardest things to do
– to learn to talk. At the same time, I'm lucky. For a while I could
not talk at all. Recently I was at the airport with my boyfriend, who
has been great through all of this. We were in line to check-in and
the man in front of us couldn't fgure out if he was in the right line.
We started talking. After a while he asked where I was from. I told
him Russia. It was easier than explaining."
Jan's foreign accent is charming, her upbeat attitude inspiring,
but her comeback hasn't been easy. "Any time you have a stroke,
one side of the body is affected," explained Jan. "For me it was the
right side. I'm lucky that I'm strong on the right and right-handed,
but I still don't have the best feeling in my right hand. I can feel
hot, cold and pain, but no fne touch sensation. I can't always tell
if there is a rein in my hand or not."
In 2011, about a year after the stroke, Jan competed for the frst
time on her own Advanced horse, Why Not: they went training
level at Sporting Days in Aiken, South Carolina. "Phillip Dutton,
my coach for more than 10 years who has taught me so much,
came to help me out," recalled Jan. "I went cross-country after
he warmed us up. I get to the 10th jump, a bank, and I look down
– my right rein is not attached to the bit at all! I jumped the bank
and then pulled on the left rein and circled until Why Not stopped.
I hopped down – my air vest string was long enough, thank God
– and I see Phillip running like a bat out of hell across the course
[Jan couldn't stop laughing at this point] and he fxes my rein and
gives me a leg up and I fnish jumping around the course."
Nine days later at the Paradise Farm Horse Trials in Aiken, Why
Not and Jan won a big division of Preliminary. "At that point I knew
that if I didn't go any further up the levels it was all right," said Jan.
"I could still run a business and I knew I could teach, but I wanted
to be able to ride. I wanted to compete at Kentucky, but this sport
is pretty humbling. I had some success last year, but I had to
step back and reassess what I could do to be a better rider. This
season I have my sights on Kentucky with one horse, maybe two,
and on WEG in 2014. I say to myself: one day at a time. I don't
always listen to it, but I say it all the time."
In February at Pine Top Spring Horse Trials in Georgia, Jan
partnered with Syd Kent, her four-star horse, to win an Advanced
division in very good company. She has been training with US
Chef d'Equipe David O'Connor, Capt. Mark Phillips, Silva Martin,
Bettina Hoy and Phillip. "Sometimes it's not about things going
right, it's about how you react," said Jan. "I'm pretty lucky about a
Jan, shown with Task Force, is making a comeback after a fall
and a stroke threatened to end her eventing career.
Photos by Michelle Dunn/mdunnphoto.com
Jan competing a horse named Waterfront at Rolex.