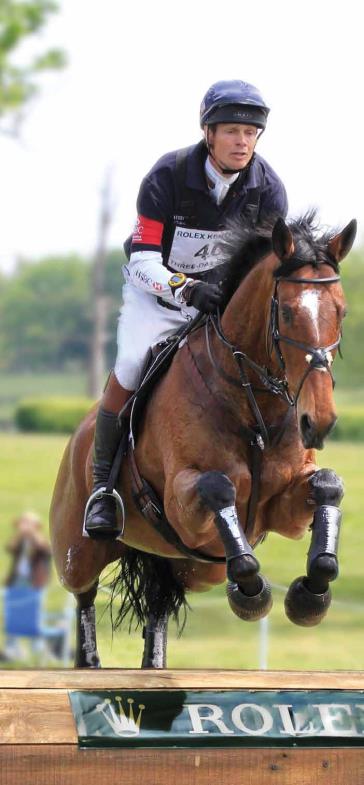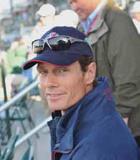 44 SIDELINES MAY 2013
FOR HORSE PEOPLE • ABOUT HORSE PEOPLE
Continued on page 46
Portrait of a champion: William Fox-Pitt
All photos by Lauren R. Giannini, unless noted
Sidelines Writer Across the Pond
William Speed Lane Fox-Pitt. An appropriate
name, and the full version is not often used. He
is more commonly known merely as William Fox-
Pitt and dominates the world stage in the sport
of Three-Day Eventing. Not only does his quite
formidable height of 6-feet-6-inches make him
stand out in a crowd but his competition record
does even more so. He is distinctive in every way.
I spent some time with him a few years ago
at the rider's party on the Saturday night after
a drenched Luhmuhlen cross-country day. The
thing that struck me about him most was his eyes.
Very kind, smiley, quite mesmerising, but behind
them lay a challenge and an astute, shrewd
A friend of mine recalled that William breaks
things down in a very simplifed way, and
delegates to make things operate smoothly.
Perhaps it is this clarity and ability to allow
responsibility in others that ensures his yard
works so smoothly and consistently turns out
CCI**** horses so regularly in an established
pattern. William is also very much sought after
as a trainer and has helped many celebrities
including Madonna, who was reported to be very
serious, hard-working and focused on learning as
much as she could. His reputation and his results
mean that he enjoys the support and patronage
of some outstanding owners, including Catherine
Witt who owns Seacookie and Parklane Hawk.
William is happily married the second time
around to the Channel 4 TV Racing presenter
Alice Plunkett, whom he met in Pony Club. It was
Lucinda Green MBE, however, who insisted that
they were the perfect match with the words "She
is the one for you William." His frst wife 'Wiggy'
has also found happiness with fellow event
rider Andrew Nicholson which has naturally
increased the competitiveness between
the two to a ferce level. All of which is
documented in William's autobiography
Born in 1969 to inherently horse
minded parents, William rode from
a young age and started eventing
at the age of 15. Encouraged by his
parents (both of whom rode at the CCI