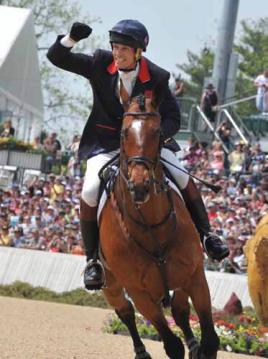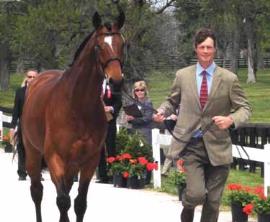 46 SIDELINES MAY 2013
FOR HORSE PEOPLE • ABOUT HORSE PEOPLE
William Fox-Pitt and Parklane Hawk jog for the ground jury
during the frst vet inspection at the 2012 Rolex Three-Day
**** level) his talent fourished and he represented Britain throughout
his teens working his way up through the ranks, winning individual silver
at the Junior Europeans in 1987, Young Rider team gold medals at the
European Championships in 1988 and 1989 and completing Badminton
at the tender age of 20. His consistent performances and reliability under
pressure established him as a regular on the senior British Team and a
Burghley win secured him a coveted place on the Team GBR Squad for
the Atlanta Olympics in 1996.
William's competition record is impressive, and his retirement is some
way off. As he says when asked to summarise his career thus far, it's,
"Not over yet!" He credits his wife Alice with being a vital part of what he
does. She understands the sport and the pressures that come with it.
William was the frst British rider to become Eventing's World No. 1,
frst in 2002 and again in 2009 and 2010. He has ridden for Team GBR for
the past 15 years, winning team silver at the 2012 London Olympics, the
2004 Athens Olympics and team bronze at the 2008 Beijing Olympics.
Team gold and individual silver at the 2010 World Equestrian Games
(WEG) in Kentucky, team silver at the 2006 WEG in Aachen and team
bronze at the 2002 WEG in Jerez. He has won seven European Team
golds at the European Championships and has been the British No. 1
He is the only rider to have won fve out of the six CCI****'s worldwide.
William won Burghley (1994, 2002, 2005, 2007, 2008, 2011), Badminton
(2004), Luhmuhlen (2008), Rolex Kentucky (2010, 2012) and Pau (2011).
He has won the HSBC FEI Classics, a series linking the top six Three-
Day Events in the world three times (2008, 2010, 2012) and fnished
second in 2011. In 2011 William became the frst rider to win a record six
Burghley titles on six different horses. William has won an unprecedented
11 CCI****'s, 50 CCI three-day events and 21 CIC one-day events. His
achievements in the sport make him one of the most successful British
event riders of all time.
In 2013, William's aims are Rolex, Badminton, Burghley and the
European Championships in Malmo, with Rolex being the frst port of call.
Choosing which horses to run where can be a diffcult task, especially
when two of the major ****CCI's (Rolex and Badminton) are so close
together in the calendar. Making the decision is never easy, but so far
he has been lucky and things have worked out for the best. Certainly his
owners love to come to Kentucky as it is such an enjoyable, hospitable
Describing Rolex, William says, "It is always a real privilege to be able
to bring horses to Kentucky. The horse park is a spectacular venue and
the atmosphere is incredible. Overseas riders are always made to feel
very welcome and I have had a lot of good luck and good rides around
the course. It is a cross-country track that I really enjoy riding. It is still
hard to know which horses I am bringing at this stage but I have entries
for Seacookie, Neuf Des Coeurs, Chilli Morning and Cool Mountain. It is
also a great opportunity to catch up with all my fellow USA competitors.
I am looking forward to catching up with Sinead Halpin who spent a year
training with us in England although this year I hear she sadly won't be
William, Alice and their three children, Oliver (7 years), Thomas (6
years) and Chloe (6 months), live in the village of Hinton St Mary in
Dorset with three lurchers (dogs), a cat, a lizard, a rabbit, two pigs and
a menagerie of rare breed chickens. There is also a small 11-hand pony
waiting in the wings that the children enjoy riding from time to time, but
so far they are showing very little interest in the sport. Alice and William
are allowing them to decide for themselves. As they said, "We are only
keen for them to at least learn how to ride as it is a great thing for them
With so many family-riding dynasties in the UK it will be interesting to
watch out for their names in the future!
For more information on William, visit www.FoxPittEventing.co.uk.
About the writer: Maria Wynne has spent her entire life with horses and her family
background is steeped in them. She is a proud (single) Mum of the an adorable 5 year old
son named Theodore Denman, who is named after the 2008 Cheltenham Gold Cup Winner.
Albion Saddlemakers are proud to have sponsored
William Fox-Pitt, for the last 16
years. He has been a fantastic
ambassador for our products
and we wish him every success
in Kentucky and for the rest of