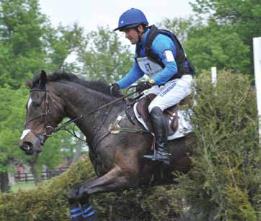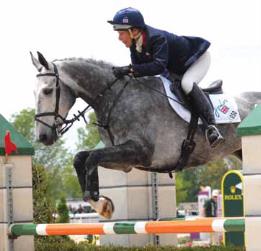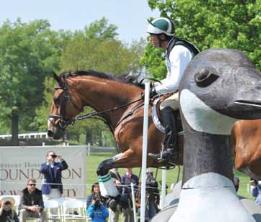 48 SIDELINES MAY 2013
FOR HORSE PEOPLE • ABOUT HORSE PEOPLE
Phillip Dutton will be back - his entries weren't posted as of press
time, but it could be Mighty Nice, owned by Bruce Duchossois,
coming back for a chance to improve on last year's 10th place.
Mary King, of Great Britain, the 2011 Rolex winner is coming back
with her 2011 runner-up Rolex horse, Fernhill Urco.
All photos by Lauren R. Giannini
What To Watch For At Rolex
Rolex Kentucky, presented by Bridgestone, takes center stage
April 25-28 at the Kentucky Horse Park when North America's
premier international four-star event showcases an international
roster of horses and riders. The stakes are high with $250,000
in prize money, plus the lure of the jackpot of $350,000 for
anyone who wins the Grand Slam of Eventing – Rolex Kentucky,
Mitsubishi Motors Badminton and Land Rover Burghley – in any
consecutive order in one year's time.
Returning to contest Rolex Kentucky are two British riders (that
we know of at press time) who helped Great Britain harvest the
gold medal last summer at the London Olympics. William Fox-Pitt
posted four entries, including last year's Rolex winner, Parklane
Hawk. Mary King, who fnished frst and second at Rolex in 2011,
has entered her second-placed Rolex veteran, Fernhill Urco, no
doubt hoping for a shot at another watch and a leg on the Grand
American riders whose entries are listed at rk3de.org
include Becky Holder with Can't Fire Me, another off-the-track-
Thoroughbred who started the season with an Advanced win at
Pine Top Spring Horse Trials in Georgia and Emily Beshear and
Here's To You who fnished 20th last year at Rolex and completed
the CCI*** at Blenheim Palace in England. Jan Byyny, Boyd
Martin and Phillip Dutton will also be there. Karen O'Connor will
be greatly missed from the starting list: she's recuperating from
injuries, but keep your eyes open – she'll probably be there to
Will Coleman and Twizzel scored the best of the American three-
day team at London last summer and they edged close to Olympic
glory but for an unfortunate moment on the cross-country. This
will be Twizzel's four-star swan song, and Will writes eloquently
about this momentous journey as a Rolex Featured Rider (rk3de.
org under the event tab).
Canadian riders include Hawley Bennet-Awad, who partners
with her Rolex veteran Gin & Juice and debuts Five O'Clock
Somewhere, her 2011 Pan Am mount, at the four-star level.
There's a lot to do besides enjoy the equestrian triathlon
of eventing. The Kentucky Reining Cup puts on two nights of
outstanding competition in the Alltech Arena. The Sponsor Village
and Trade Show are designed for shopaholics from any discipline.
With demonstrations and USPC Mounted Games, course walks,
autograph sessions, and all the other attractions of the Kentucky
Horse Park, it's the place to be the last weekend in April.
To learn more about Rolex, visit rk3de.org
Will Coleman and Twizzel: ffth last year, and one of only three
horse-rider combinations to fnish on their dressage score with
two double-clear jumping rounds.