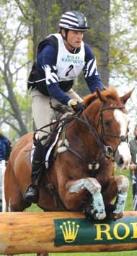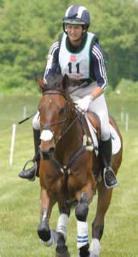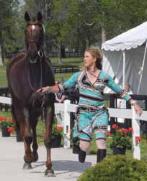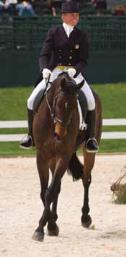 50 SIDELINES MAY 2013
FOR HORSE PEOPLE • ABOUT HORSE PEOPLE
such a stellar year Arthur
plan is to compete Arthur
this fall and prepare him
– I'd like to take him to
Pau CCI**** (France) this October where the course designer is
the same one as WEG in Normandy (France)," said Allison. "I
will be going to Rolex as a spectator for the frst time ever this
year. I'm excited to cheer on my fellow SmartPak riders!" Arthur's
SmartPak includes SmartFlex IV Ultimate Pellets, SmartDigest
Ultra, SmartLytes and APF on SmartWafer.
Photo by Lauren R. Giannini
The big buzz in eventing circles, of course, is Rolex Kentucky,
the premier three-day event in North America. Team SmartPak
sponsored riders Jan Byyny, Jennie Brannigan and Boyd Martin
have been gearing up and getting ready to rock and roll, equestrian
triathlon-style, at the Kentucky Horse Park, April 25-28.
Allison Springer and the amazing Arthur will not be competing
at Rolex this year; however, Allison will be on hand to enjoy the
action and sign autographs at the SmartPak booth. Best of all,
Allison and Boyd will again team up as leaders of the extremely
four-star debut together: you
can read about their road to
Featured Rider. Jennie and
Cooper partnered to harvest
19 wins, including individual
favors the Kingsland Lovita
(aka Ping) gets SmartPaks
with SmartFlex IV Ultimate
disappointed, because Nev
this year (he's entered at
The Fork in North Carolina).
Aces at the four-star level,
but Neville Bardos is still
SmartPak with his SmartPak
Pellets, SmartLytes Pellets,
gets a daily SmartPak with
SmartCombo Ultra Pellets,
SmartLytes Pellets and APF
Photo by Lauren R. Giannini
popular Rolex Course Walk, sponsored by SmartPak, on
Thursday, April 25 or Friday, April 26.
[Be sure to sign up ASAP to make certain you get onto the email
list that announces the exact time and date of the 9
Course Walk: www.smartpakequine.com/coursewalk]
Team SmartPak riders pay meticulous attention to every detail
of their horses' health and well-being, and their equine athletes
harvest the healthy benefts of customized SmartPak supplements.
The handy SmartPaks help busy people on the go by taking the
worry out of having to measure each supplement at feed time. Be
sure to visit SmartPak in the Sponsor Village.
entered for Rolex this year:
Syd Kent (shown here doing
SmartFlex IV, Ultimate Pellets,
SmartHoof Pellets, SmartShine
riding kit includes her favorite
Alexus Full Seat Breeches by
SmartPak. She is a Pan Am
team gold medalist, bronze
individual (2003) and has
evented around the world.
Certifed a Level IV instructor
by the USEA ICP, Jan runs
Surefre Eventing in Purcellville,
Virginia and gives back to the
sport she loves by coaching the
Young Rider three-day Area IX
team and serving as co-chair of
the Young Rider committee.