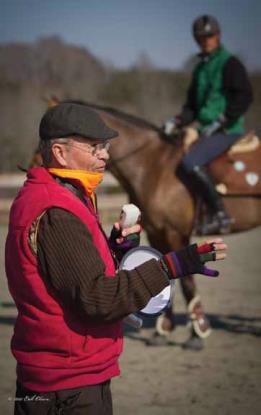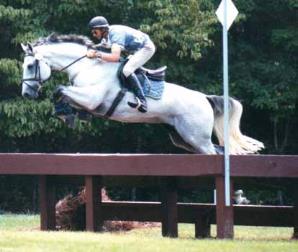 54 SIDELINES MAY 2013
FOR HORSE PEOPLE • ABOUT HORSE PEOPLE
Continued on page 56
The King
of Rolex!
immy Wofford once wrote, "Ralph Hill could fnd his way
around Rolex blindfolded." Those who join Ralph on the
course walk at this year's Rolex Kentucky Three-Day
Event will be seeing the course through the eyes of an absolute
master of the cross-country feld.
Thirty-fve years ago at the 1978 World Championships,
spectators were asking, "Ralph who?" after the unknown 26-year-
old "smoked" a cross-country course that eliminated 26 of the
49 starters. Called "the sleeper of the competition" by Sports
Illustrated, Ralph was aboard Sergeant Gilbert, a nine-year-old
Thoroughbred he and his father, Francis "Hilly" Hill had trained
from a two-year-old. In his frst international competition, Ralph
found himself in silver medal position going into show jumping,
but a decision to ride as others told him to -- not as he felt his
horse wanted to be ridden -- cost him a medal and put him in
Still, he'd put the world on notice. Two years later, when the
U.S. boycotted the Moscow Olympics, Ralph rode with the team
at Luhmuhlen, Germany. He set a Puissance record in Texas;
and he represented the U.S. in eventing, competing in South
America, Europe and England. In 1991 he fnished tenth at
Blenheim, the highest-placed American rider. 
Without deep pockets or a major sponsor, Ralph rode
whatever came his way. Jack LeGoff called him "one of the
best catch-riders I have ever met" and Mark Phillips said, "As a
catch-rider, given the opportunity to ride someone else's horse
at the last minute, he is riding what he is feeling underneath him,
rather than expecting a horse to go a particular way. The best
horsemen in the world ride a horse the way it feels."
Ralph rode at least one horse at Rolex every year from 1978
through 2006, a 28-year reign -- unmatched by any other rider
-- that earned him the nickname "The King of Rolex." Famous for
singing as he rode cross-country, Ralph joked that he sang so
badly his horse would run faster to try to get away from him. "If
everything was going great, I'd be singing rock 'n roll; otherwise
I'd be singing hymns." The crowds reveled in his exuberant love
of the sport and the chance to catch a high-fve as he rode by.
Ralph coaching at a recent clinic at Renovatio Farms.
Photo by ErikOlsenPictures.com
Ralph rode at least one horse at Rolex every
year from 1978 through 2006…that earned
him the nickname "The King of Rolex."
Ralph aboard Winston, a Hanoverian stallion he successfully
campaigned for several years.
Photo courtesy of Ivy LeDonne