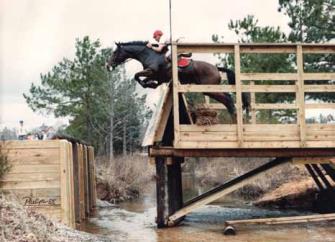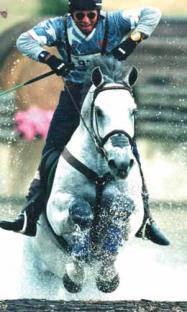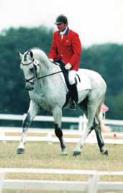 56 SIDELINES MAY 2013
FOR HORSE PEOPLE • ABOUT HORSE PEOPLE
The King of the cross-country course:
Ralph and Sergeant Gilbert take fight.
Then in 2007, just weeks before Rolex, a catastrophic
accident at Poplar Place left him in a coma for eight weeks, with
multiple fractures and head trauma. It's been a long road back,
complicated by a second accident in 2010, when a fall from one
of his young horses left him with a broken neck. 
While the frst accident changed his life, Ralph hasn't let it
defne it. Instead, his Christian faith and a determination to lead
life differently are what guide him. Gone are the marathon days of
riding, training, teaching and partying. Instead, he paces himself,
giving no more than two clinics per month, as he crisscrosses the
U.S. from his base outside Ocala, Florida to Kentucky, Georgia,
One stop is Eric Dierks' Renovatio Farms in Tryon, North
Carolina. Eric's frst-ever cross-country lesson was with Ralph
when Eric was a Young Rider; and he continues to work with him
today. "Ralph didn't always have the best horses at Rolex, but
what he did was take an average horse and make him believe
that he could do it -- and the horse would end the course feeling
he could do more. Ralph does the same thing with riders. He's
one of the best coaches because he makes you and your horse
believe that you can do it. He took an average Area III Young
Riders team and brought them all the way, and he did the same
with Area IV and took them to gold. He has so much enthusiasm,
compassion and insight. He teaches his students an appreciation
of the horse and what the horse does for you. He's bigger hearted
than the horses and always gives each person 110 percent."
"What's remarkable is that he's better than ever," says Jane
Braddock. Jane is a longtime student who rode with Ralph in the
Rider Development Series in Minnesota in the mid-1990s and,
with Liz Lund, continues to organize clinics with him. "Before his
passion was split between riding and teaching; now he's fully
You didn't want to miss Ralph at the Head
of the Lake at Rolex -- or at any other water
jump. He clearly loved the water.  
Photo courtesy of Ivy LeDonne
Ralph and Winston: in perfect harmony.
Photo courtesy of Ivy LeDonne
present in the teaching. You see the love and joy he has for the
sport, but also the empathy and understanding he has now."  
For Ralph, "It's all about what the horse needs now and getting
the riders to feel that. I tell riders, 'Your brain is bigger than his.
You have to go with what the horse needs, at his pace.' 
"When I got into eventing, you started at the prelim level. You
had to have done hunters and jumpers, and you had to know
how to ride the big fences and condition your horse. I'd been an
A graduate of Pony Club; I'd done fox hunting and been whipper-
in for Willie DuPont. I'd ridden hunters and jumpers, done timber
races and steeplechases. Now too often you get riders who
buy an advanced horse because they don't know how to bring
a horse along and condition it. They don't know the difference
between the galloping and the jumping position. I just want to
help people understand what the sport is really about. It's about
being able to train and condition your horse properly so that he's
ft and sound at the end."
Today, Ralph is preaching the same positive horsemanship
that made him successful. "When I was competing, if we'd gotten
around a course well, and my horse came in feeling good about
himself, I felt like I'd won. That's what it's about: you and the
horse as a team. Only the Lord knows if God is ever going to
allow me to compete again, and that's okay. Now I just want
to help people and their horses and pass the torch to the next
Ralph and Eric Dierks will be doing a course walk that's open
to the public on Friday of Rolex; the walk is sponsored by Flair®
Equine Nasal Strips and Moxie Equestrian. For a schedule of
Ralph's clinics or to contact him, visit EventingwithRalphHill.
About the writer: Donna Stuart is a freelance writer based in New Hampshire.