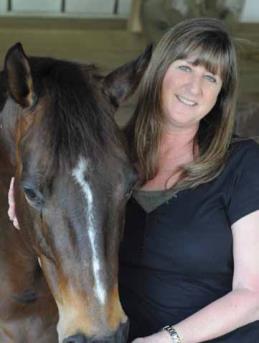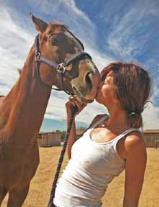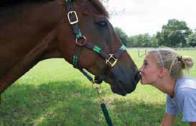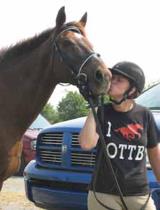 4 SIDELINES MAY 2013
FOR HORSE PEOPLE • ABOUT HORSE PEOPLE
Welcome to our Rolex and eventing issue. William Fox-Pitt,
of Great Britain, rode away with the Rolex title last year and our
cover photo shows William and Parklane Hawk celebrating their
win. I love to study the expression on a horse's face, and "Parker"
is certainly standing at attention, listening to the applause and
looking into the stands as if to say, "We Did It!"
I am looking forward to seeing who does it this year – and the
feld of talented riders will make for an exciting event. This issue
goes to print before the 2013 Rolex Kentucky Three-Day Event
takes place, (did you know Sidelines is printed two months ahead
of time?) but I will be at Rolex in Lexington, Kentucky at the end of
April and can't wait to see who takes the victory gallop.
Sidelines writer Marie Wynne lives in the UK, so in addition to
giving us the inside scoop on the royal happenings of William,
Kate and baby, she also introduces us to William Fox-Pitt and
his winning ways. He is a highly decorated eventer and has won
Rolex twice, in 2010 and 2012. William's 2012 mount, Parker,
is a New Zealand bred Thoroughbred who had a less than
distinguished racing career. He raced 19 times, including six times
in steeplechases, and only earned $1,875.
Having an unsuccessful racing career is not a stumbling block
for the talented Thoroughbred breed and many go on to have
amazing careers after the track - as eventers, hunters, jumpers,
polo ponies, dressage horses, lesson horses, trail horses and the
ever-important role of "best friend and beloved equine companion"
to horse lovers all over the world.
Staff writer Lauren Giannini introduces us to a racehorse-turned-
event horse adopted through CANTER (The Communication
Alliance to Network Thoroughbred Ex-Racehorses) and you will
enjoy her story on a horse fondly called Sir Woods of Spookalot.
Our "My Story" feature in this issue is also about a racehorse
who had a very successful eventing career, and I think you will
be touched by Juliana Hutchings story on Fling, her million dollar
Sidelines just wrapped up our OTTB (off-the-track
Thoroughbred) Photo Contest and the results were explosive –
just like Thoroughbreds breaking from a starting gate. We had
so many entries that my inbox was clogged for days! The contest
proved two things - an OTTB can have an excellent second career
and many, many wonderful people have stepped up to the plate
to rescue racehorses. It really was a moving experience to read
entry after entry and realize how many horses have been given a
second chance at life and love. Our OTTB Photo Contest resulted
Kelsey Bryant, of Ocala, Florida, shares a kiss
in four top winners, four runner-ups and 20 honorable mentions,
but if you followed our Facebook page you were able to see all of
the entries and pick your own favorite photos. I am including a few
of my own favorites here that show how much we love our horses!
(You will notice a kissing theme!)
This issue has so much to offer and – just like a rescued
Thoroughbred – I hope you enjoy the adventure. And no matter
what breed of horse you share your life with, give them a hug, a
treat and a great big kiss from me!