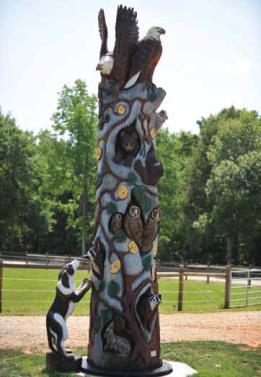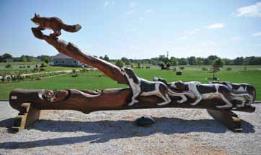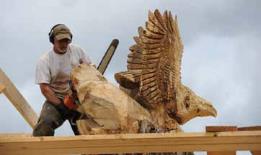 58 SIDELINES MAY 2013
FOR HORSE PEOPLE • ABOUT HORSE PEOPLE
Just watching wood carver Randy Boni create his sculptures
during the annual So8ths/Nikon Three-Day Event in the "Heart of
the Carolinas" lets you know how passionate he is about what he
does. Randy will be back once again working on another creation
during the event, May 2-5 in Chesterfeld, South Carolina.
Southern 8ths Farm is lucky to have Randy's work since much
of his preserving of dying or damaged trees can be seen as high
profle landmarks around the country. Using mostly a chainsaw,
Randy is now protecting nature by providing another resting place
for these trees at So8ths.
With so much beautiful artwork sprinkled around the country,
little do most people know that these landmarks were almost
never going to happen. For over 30 years, Randy and his twin
"My twin brother and I were born with cataracts. We were legally
blind, and could not see well enough to play ball, or ft in well with
sport endeavors," he explained. Fortunately, when Randy was in
his 30s a successful surgery gave him back his sight and gave the
country the opportunity to witness his talent.
"I love carving. It helps me love all of life. I do what I love and
love what I do," commented Randy.
Considered one of the most profcient chainsaw artists in the
country, Randy's frst So8ths sculpture was a fox and hound
hunting scene. That expanded into works of art that grace the
300-acre paradise, which showcases an indoor arena, permanent
stalls, RV hookups, a steeplechase feld, cross-country course,
three-and-a-half miles of roads and tracks, regulation size
dressage arena, derby feld and colorful show jumps.
During the year Randy carves some smaller pieces for the farm
but for the annual So8ths/Nikon event he carves one major work
of art. In 2010, Randy carved a tree of life totem and in 2011 he
did a lion lesson log. This year he will be carving a water scene
from a large ash log that cross-country course designer Tremaine
Cooper sent from his house in Massachusetts.
"Randy Boni is more than a wood carver," commented So8ths
owner Brad Turley. "He is a storyteller who conveys his story
Randy's tree of life totem.
All photos by Diana De Rosa Photos
through his carvings.  His unique approach fts with Southern 8ths
approach – do it well, and do it differently."
"Working at Southern 8ths has been awesome because Brad
has allowed me to do what we call masterpiece work where we
take it up to the artistic level and make bigger landmarks on the
landscape around the horse jumps at the farm," Randy said.
To see all of the wonderful sculptures that Randy has done at
Southern 8ths Farm, mark your calendar now to attend or even be
a volunteer for the third annual So8ths/Nikon Three-Day Event.
For more details visit the web site at www.so8ths.com.
Randy's frst creation at Southern 8ths Farm – a fox and hound
Famous wood carver Randy Boni in action at Southern 8ths
Farm, creating one of his masterpieces using a chainsaw.