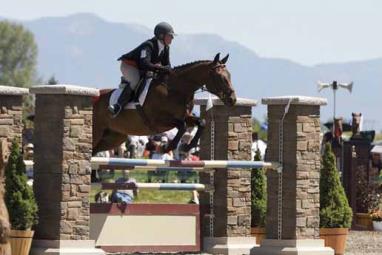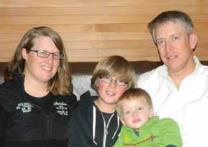 60 SIDELINES MAY 2013
FOR HORSE PEOPLE • ABOUT HORSE PEOPLE
When Christian Eagles' mom
moved to Laramie, Wyoming in
1990 and bought a farm, Christian
left her life in Pennsylvania behind
and followed her mom to what many
consider "the middle of nowhere."
Christian never thought she would
stay in Laramie, but more than 20
years later her eventing training,
teaching and competition business,
Eagles Ranch, is thriving.
"There are tons of advantages
to living here. It's less expensive
to keep and care for horses here,
we have huge open pastures
for the horses to play in, and the
pressure of living in a community
where everyone is always watching
and talking about everyone else is
absent," she said. "We have the
best trail riding in the world and it's
also a great place to raise a family."
Christian, and her husband John,
have learned to manage "horse life"
in Wyoming. "We live at 8200 feet
of elevation, so we don't have to
do quite as much conditioning as we would need to at a lower
elevation. The horses also spend their days out in 100-acres of
hilly pasture, where they run and play (and cause me to worry that
they will hurt themselves), and keep a base level of ftness all the
Christian added that when they travel to an event at a lower
elevation, thanks to their high level of ftness, the horses can get a
bit wild. "The weather here is very snowy and windy, which keeps
us confned to the indoor for much of the winter, but the summers
are great," she said. "We get really good at blanketing here."
Because Christian and her family enjoy life in the wide-open
spaces of Wyoming, they are able to put up with the inconveniences
of living "in the middle of nowhere." The biggest inconvenience:
the travel. "Lower level events are accessible, but when you move
a horse up to Intermediate, there isn't much here so we have to
Christian isn't the only family member to spend time in the saddle.
"My husband events through the preliminary level and was both
MSEA and USEA area IX Champion at Training Level last year.
My 11-year-old son is hoping to event at Beginner Novice this
year, but has mostly shown in 4-H. He went to State Fair last
year where he was State Champion in Trail, Reserve Champion
in Western Riding, 3rd in Reining and 6th in Hunter Under Saddle.
My 2-year-old son already has a pony that he loves to feed treats
to and drag around the arena on the end of his lead."
Christian's success in Wyoming began early, when in 1994 she
spotted a six-week-old foal in a feld. She asked the owner, Alan
Reed, if the foal was for sale, but he wasn't. Two years later,
however, Christian got a call from Alan that he would sell the
"foal from the feld" and that was the beginning of Christian and
The Gingerbread Man's 13-year career. A friend also bought The
Gingerbread Man's half-brother, Reddie Noble, and turned the
"The Gingerbread Man (registered as Mandelbars) and Reddie
Noble are both appendix Quarter Horses, both sons of a
Thoroughbred stallion named Mandelstam (son of Vaguely Noble)
that we stood for a year or two before his death," Christian said.
"The Gingerbread Man came to me un-started, he wasn't even
halter broken. Once I convinced him that he was, indeed, a riding
horse, he took to jumping like a rocket goes into orbit."
Christian found success on both horses, winning the Colorado
Horse Park CCI2* on The Gingerbread Man in 2005, placing 5th in
theCIC3*WorldCupQualifer at RebeccaFarmon theGingerbread
Man in 2007 and placed 10th in the CIC2* in 2007 at the Virginia
Horse trials and three-day event on Reddie Noble. "I think it's
amazing that both of themmade it to the Advanced level. With all the
things that can gowrong in horse sports, it's sort of unbelievable that
two horses chosen out of a feld in Wyoming would make it so far."
Christian has one goal that won't happen in Wyoming, but that's
fne with her – "I'd like to have a chance to run a horse at Rolex.
That hasn't worked out for me yet, but it's defnitely in my future.
I'd also love to have a chance to coach students there."
To learn more about Christian and Eagles Ranch, visit her on
Facebook at Christian Eagles.
Soaring With Christian Eagles
Christian in the CIC***-W.