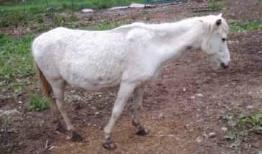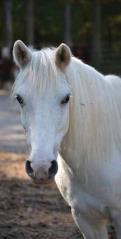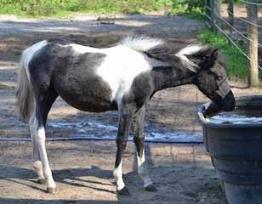 72 SIDELINES MAY 2013
FOR HORSE PEOPLE • ABOUT HORSE PEOPLE
Debbie Ober has a passion for Chincoteague ponies that began
when her husband took her to her frst pony penning in 1998. In
2000 she got a foal of her own at the auction. She fell in love with
breed because she says "they have a lot to offer" and are smart.
Debbie founded The Chincoteague Pony Rescue, located in
Maryland, when people who bought foals at the auction decided
they couldn't keep their new addition and asked Debbie to take
them. With the failing economy more and more ponies in need of
being rescued, Debbie checks the websites of slaughter houses
located in Pennsylvania, Ohio and New Jersey on a regular basis
looking to see if there are any Chincoteague ponies in need of
help. Debbie's rescue "is a full-time job" and in addition to caring
for ponies she receives "15 to 20 emails a day asking for advice
on how to care for the foals people bought at auction because no
one gives them any information."
Like most dedicated rescue people, Debbie spends her days
trying to raise money to continue providing for the 28 ponies in
her care. Debbie has placed eight ponies since November, 2011
and currently has 13 available for adoption. Some of the ponies
on her farm are her own including a 24-year-old stallion that was
a rescue from Assateague Island.
Debbie recalls one rescue that was particularly diffcult. It began
in March, 2012 when Debbie received a phone call from a nurse
in Indiana who was trying to help a patient fnd good homes for
her nine Chincoteague ponies, two of who were due to foal any
day. The owner had suffered from health and fnancial setbacks
and her home was in foreclosure. The nurse told Debbie that
the owner had already been turned down by 10 other rescues
because her ponies were not in bad enough condition.
Debbie spent the next month making phone calls and setting up
the rescue. She had to get ownership transfers so that she would
be allowed to have the ponies. She also had to raise the money
to pay for the 500-mile trip to Bristol, Tennessee. By this point the
two mares had given birth. "The owner called and tried to cancel
the trip the night before because the second mare had just given
birth," said Debbie who was not about to let a month worth of work
Debbie's husband Tom and two friends made the 10-hour trip.
The terrain where the ponies lived was rocky and hilly and they
were living with barbed wire, broken glass, broken boards and no
shelter in the paddock. There was no sign of food and the only
source of water was a stream that ran through the middle. There
were two stallions who were kept with the mares and babies.
The one foal was only 24-hours old and her mother was in
terrible condition. The foal was very weak and had to be carried
onto the trailer. The mare, Shadow, followed. The men were able
to get the other foal onto the trailer, but one of the stallions was
very aggressive and wouldn't let the foal's dam follow. In the end,
they had to let the second baby off of the trailer because it was
decided he needed to stay with his mother.
Shadow was hundreds of pounds under weight when she arrived
at the pony rescue. "She looked like a skeleton," Debbie said. The
foal, who Debbie named Bristol,
"had been born three weeks
early, had pneumonia and under
Today, mother and baby are
doing well. Bristol is weaned and
Shadow is getting healthier each
day. The other ponies are still
in Tennessee because Debbie
cannot currently fund a trip to
go back and no other rescue
will take them as of right now.
If you are able to help, visit the
Chincoteague Pony Rescue at
www.chincoteagueponyrescue.
org. They also have a Facebook
page with up-to-date information
About the writer: Lida Bard is in her
senior year at Elon University in Burlington,
North Carolina where she is majoring in
Creative Writing. When she's not in class
she can be found at the barn with Clipper,
her very own Chincoteague Pony she
adopted during pony penning day.
Shadow in her Tennessee pasture before being loaded on the
Chincoteague Pony Rescue trailer.
Photos courtesy of Chincoteague Pony Rescue
An adorable Bristol enjoying life at the Chincoteague Pony