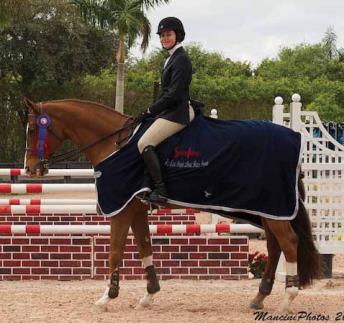 74 SIDELINES MAY 2013
FOR HORSE PEOPLE • ABOUT HORSE PEOPLE
Kate Bundy is Big Eq Bound
Sidelines Magazine was the proud sponsor
of the ASPCA Maclay Equitation class
(Section A) at the Winter Equestrian Festival
in Wellington, Florida during the 2013 winter
circuit, and Kate Bundy, a 14-year-old from
Westport, Connecticut, rode away with the
beautiful Sidelines cooler during Week 5.
Kate won on Bugatti, owned by Roy Wilten.
Check out the "Tucker the Wunderkind" blog
on the Sidelines website this month to see the
video of Kate's winning Maclay round!
Kate has been riding since she was six
years old and has been competing in the Big
Eq classes for the last year-and-a-half. She
trains with Val Renihan of Findlay's Ridge,
LLC, of North Salem, New York. Last year
was Kate's frst year competing in the Big Eq
fnals, aboard HH Confession, and Sidelines
caught up with her to chat about winning the
Sidelines cooler and life in the Big Eq ring.
What got you into horses and horse
showing?
My mom rode when she was growing up
and on her college team, and wanted a cute
picture of me riding a pony. She asked me if I
wanted to take a lesson so she could get her
photo op. Needless to say, I took many more
lessons and we have many more photos.
Following my debut in the Leadline class at
the Hampton Classic in the Summer of 2005,
I have traveled to numerous shows across the country.
What is your biggest challenge in the Big Eq classes?
My biggest challenge: The pressure, I get nervous. But there's
something so refreshing about having a good round and just being
proud of yourself. Another reason I love the equitation is because
the main focus is on you as a rider and the way you communicate
with the horse. I think it really helps riders develop a connection
What was the course like in the Sidelines Maclay class that
you won?
Like any BigEq class at WEF, the course was unique. There
were many opportunities for inside turns that I took advantage of.
I found the most diffcult part was the numerous bending lines that
posed a risk for swaps or cross-cantering.
Did you know that you had a winning round as you were
coming out of the ring?
While I knew my trip was good and I was defnitely proud of
it, it takes a lot to win at WEF so it was an incredible surprise to
What do you like about training with Val Renihan?
She is so experienced and I am so fortunate to be trained by
her. Her techniques of training are not uniform for each rider but
are individually customized for what fts you and your horse best;
she knows how to win. She requires hard work, but in return, her
devotion and support really helps me become a better rider every
What is your favorite thing about riding and horses?
I treasure the bond and the love that I have for all of my animals.
We are partners and I value the communication established out of
the saddle as well as in it. I have also made many extraordinary
friends that aren't four legged through riding. The long hours and
ups and downs that we share have created friendships that I know
Do you have any lucky charms or superstitions?
I had a lucky shirt. However, frst I lost the choker collar and
then the shirt suffered a critical rip. Then I won a class without it
and realized I never really needed it anyway!
What are your riding goals?
I would love to place at one of the Big Eq Finals. While I
concentrate my efforts in the equitation, I would also like to take
advantage of any opportunities to compete in hunter derbies or
jumper classes that might come my way.
About the writer: Marissa L. Quigley has been a fan of all things horses since
before she could walk, and competes in the adult amateur hunters with her horse,
Tucker. For video features and more on this story, visit them on the Sidelines website
at http://sidelinesnews.com/blogs/tuckerthewunderkind/.
Kate and Bugatti show off their Sidelines cooler.