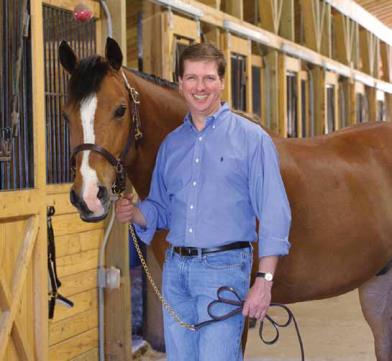 76 SIDELINES MAY 2013
FOR HORSE PEOPLE • ABOUT HORSE PEOPLE
SmartPak Equine, founded by
Becky Minard and Paal Gisholt
in 1999, revolutionized feeding
supplements to horses. They
launched their innovative concept
as a dot-com company and in
2002 introduced their catalogue.
SmartPak has grown into a
250-employee, $100-million
Plymouth, Massachusetts. With
their emphasis on serving the
needs of horse people from
trail riders to elite equestrians,
SmartPak has expanded from
the feed room to tack and riding
"I remember when I got the
email from Becky," recalled Paal.
"She said, 'Remember how I
discovered Westley wasn't really
getting his supplements? I have
an idea that rather than individual
owners making up baggies, we
do that work for them. Only,
we make it better by keeping
each supplement separate so it
won't cross-react, and we ship
it out automatically every month
straight to the barn so you never
run out and it can all happen like
clockwork behind the scenes.' "
resulted from a horsewoman's
dedication to make sure her horse
stayed as healthy as possible. SmartPak makes feed-time easy.
Peel open the SmartPak, labeled clearly with Dobbin's name, and
dump it in the feed tub. No more baggies, no more anxiety.
Ingenious? You bet, but it took intense work for SmartPak to
gain the volume it needed to operate in the black and turn a proft.
Paal had spent 10 years prior to starting SmartPak working in
venture capital, starting in industrial products, such as packaging
machinery, recycling and energy. After graduating from Harvard's
School of Business whose approach focuses on immediate action
to come up with a plan, he moved into the medical industry.
"That's where I got a lot of exposure to supplements, drug
development, regulations, unit dose packaging, generic drugs
and disease management services," said Paal. "It's pretty cool
how almost every element of that experience has come in handy,
but probably the most critical piece of my background was being
involved in starting and/or building 25 companies over that period
Quality control at SmartPak is taken very seriously, of course.
"This is a Team responsibility," emphasized Paal. "Every week we
have an interdepartmental quality meeting where any issues from
the prior week are raised, discussed and we work to implement
a systemic fx that prevents reoccurrence. On the production
Ingenious! Revolutionary!
foor we have a wide range of both human and machine-assisted
quality control that includes extensive use of barcoding with every
order being scanned 12 times and optical product recognition
software that scans every order twice. We have in place the
most aggressive approach to quality improvement of any similar
The businessman behind SmartPak's incredible growth and
success performed feld research in the form of riding lessons. Paal
recalled: "During my frst lesson I had the classic overwhelmed
feeling of worrying about keeping my heels down, keeping
a string tied to the top of my head, not crushing the bird in my
hand and trying hard to fgure out what the hell a diagonal was."
SmartPak's plans for the future include more nutritional and
pharmaceutical support for better horse care. "From lameness to
ulcers to colic – these problems are amenable to good nutritional
support and we are working to develop products and educational
materials and programs to help people take great care of their
horses," stated Paal. "We have also tried to make horse care
engaging and fun. From our horse care magazine to how we
communicate with customers, we are coming at it like a friend
in the barn who happens to know a crazy large amount about
supplements, as opposed to a textbook author."
Paal Gisholt, SmartPak co-founder and CEO.
Photo courtesy of SmartPak Equine