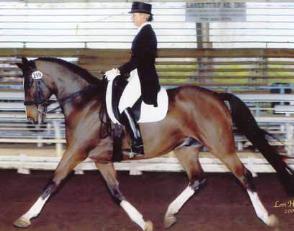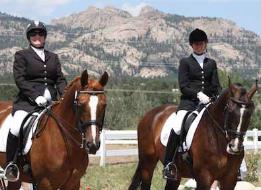 78 SIDELINES MAY 2013
FOR HORSE PEOPLE • ABOUT HORSE PEOPLE
Thanks to a cowboy and the beautiful mountains in the
West, dressage trainer Gigi Brittain left sunny Florida and
moved across the country. "I met a cowboy who had ties
to South Florida, but lived in Wyoming. Eventually I moved
out there but it didn't work out and I went back to Florida,"
Gigi said. "But I immediately missed the mountains, so six
months later I moved to Colorado on my own."
Gigi runs Gigi Brittain Dressage in Elizabeth, Colorado,
and said, "The mountains are amazing! There is so much
wide-open space and lots of wildlife. The horses get to be
horses and the hills make conditioning and strengthening
the horses easier and fun."
 Gigi inherited her love of horses from her mom, and
the two started taking lessons together when Gigi was 12.
They rode with a British Horse Society instructor who not
only taught them to ride, but also taught them about stable
management. "I eventually got my frst horse and found
my passion," she said. "I started riding hunters, jumpers
and equitation and then played with a little eventing. I was
hooked on the dressage phase. Though, once in a while I
still need to go gallop and jump something!"
You had great success with your horse Interland. What is he
doing now?
Interland, aka Piety, competed successfully through
Intermediare 1. He had a career ending injury in 2007, but at
23 is happily still working fve days a week in the arena and on
trails. He is an amazing trail horse. He was purchased in 1998 in
a partnership with Joan Bergmann. After a few years she wanted
to sell him and at that point I was totally attached and bought him
for myself. He has given me more opportunities than I could have
ever imagined. He's a very spoiled boy that deserves every bit
What do you like about teaching?
I love watching my students develop confdence with their
horses. Jackson Gillespie is one of my young riders. He had
an unbelievable frst show season with Rivendell, winning all of
the Rocky Mountain Dressage Society Training and First Level
awards. He was also ranked 4th in the country in the Adequan
USDF awards in Training level. Beth Villery is one of my adult
amateur riders. She purchased Legende, a jumper I used to ride
in Florida, when he was 17 years old and now he is 20 and has
developed into a winning dressage horse. They are now working
at 4th level. Not all of my clients show, some just enjoy learning.
What is it like training, teaching and competing in Colorado?
I train year-round here, thanks to a cozy heated barn and
indoor arena. My days are split between lessons and training
rides. We compete about fve months out of the year and I do
a lot of coaching at the shows and also teach clinics in Northern
Wyoming. I am hoping to compete some of my client's horses
this year. Because the horses have so much more ability to be in
herds and interact here, I've also learned a lot about their natural
Who has inspired you throughout your dressage career?
I've learned somuch fromall of the trainers I've worked with. Bent
Jensen taught me about the movements. Patrick Burssens taught
me about connection. Sue Blinks taught me details. Jane Savoie
taught me about clarity in training.
What is your idea of happiness?
What brings me happiness is a feeling of accomplishment each
What activities do you do besides horses?
I bought an adorable log cabin in the woods that has an
incredible English garden. I love working in the garden and being
visited by the hummingbirds each year. I also love to cook. My
puppy Schuyler keeps me entertained when we are not at work. I
try to go fshing as much as possible, too.
If you could travel anywhere, where would you go? 
I'd like to visit New Zealand and Alaska.
Gigi Brittain Loves Life In the Mountains
Gigi Brittain and Interland
Debbie King on Goetz Grace and Gigi Brittain (right) on Rivendell