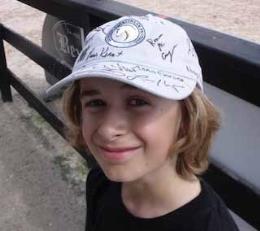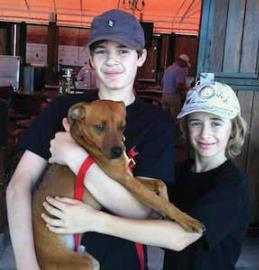 80 SIDELINES MAY 2013
FOR HORSE PEOPLE • ABOUT HORSE PEOPLE
At the ingate of a grand prix ring is a collection of onlookers,
mostly grooms and riders, all anticipating the next round. Also
among them is a young boy, eagerly awaiting his opportunity to
collect a signature from some of the world's top riders. Nine-year-
old Nate Frank, an equestrian and show jumping enthusiast from
Harrington Park, New Jersey, recently spent a long weekend with
his family in Wellington at the FTI Consulting Winter Equestrian
Festival (WEF.) Not only did he watch the grand prix, he also
On the frst day at the show grounds Nate was on the lookout
for two things: riders he admired most and a white WEF baseball
hat. Finding a white hat was a task easier said than done. Many
vendors had sold out of the popular white hats, but after searching
the grounds they found one. Armed and ready with a crisp, new
hat and a permanent marker, Nate stood patiently by the ingate of
the grand prix ring - waiting for riders to sign his hat.
Not only did riders such as McLain Ward, Nona Garson and
Laura Kraut take the time to sign his hat, they also made an effort
to talk to Nate and encouraged him to continue his career as a
rider. "Everyone was really friendly and most of them said how
great it was to see a boy in the sport," said his mother Joni Corn.
Nate gathered over 30 signatures on his white WEF hat. The
hat became his favorite souvenir, aside from a dog he and his
brother adopted from Danny & Ron's Rescue. While walking the
grounds, Nate and his brother Noah spotted the dog rescue and
found the dog they had been dreaming about for years. It seemed
like the perfect addition to the family.
The next day they went back to the rescue only to fnd the
dog had been adopted by someone else. They left their contact
Hats Off to Show Jumpers and
Animal Rescue
information and made sure that if the dog didn't ft with its new
owners that Nate and his family would be the frst to know. After
a week of waiting, the phone rang. They dog they had adored
couldn't go back with the person who had intended to adopt it due
to a housing restriction. That afternoon, the dog was theirs!
The new edition to the family, Scout, bonded with Nate and
Noah while they continued to explore the WEF show grounds.
The dog retuned home to New Jersey with them and fts in with
the family perfectly. "Scout is doing great," Joni said.
As Nate grows and looks toward his future, as a rider and animal
philanthropist he has wonderful hopes and dreams. Nate rides
with Joe Source at Top of the Line Stables in New Jersey, and in
the next two years he hopes to join the Interscholastic Equestrian
Association team (similar to IHSA.) When he celebrates his Bar
Mitzvah, instead of receiving presents, he would like to take
donations for a charity; probably Danny & Ron's Rescue. His long-
term goals: he would like to be a steeplechase rider and compete
About the writer: Caileigh Bryant lives in Aiken, South Carolina and rides at The
Stable on the Woods where she competes in dressage and jumpers with various
horses. She is almost fnished with her degree in English at Sweet Briar College.
Nate Frank shows off his autographed WEF hat – he collected
more than 30 signatures while in Wellington.
Photos by Jan Westmark-Allan
A new family member: Noah and Nate Frank (right) hold Scout,
a dog they adopted through Danny & Ron's Rescue while the
family was at the Winter Equestrian Festival in Wellington,