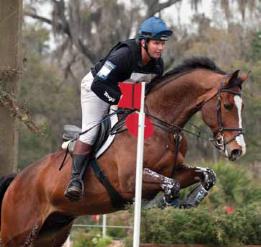 92 SIDELINES MAY 2013
FOR HORSE PEOPLE • ABOUT HORSE PEOPLE
Olympic eventer Clayton Fredericks has an expansive list of
international travel under his belt and an even more impressive
résumé. Australia, Great Britain, Canada, China, France,
Germany, Ireland, the Netherlands, Portugal, Sweden, the U.S.A.
and more – he's been there – either as a rider or a coach.
His boyish grin and approachable manner belie the wealth of
experience he possesses from winning two FEI World Cup Finals
(2005 and 2008), being a member of two Australian Olympic teams
(Hong Kong 2008, team silver, and London 2012, team ffth),
winning individual silver and team bronze at the 2006 Aachen FEI
World Equestrian Games and winning the 2007 Rolex Kentucky
Born in Moora in Western Australia, Clayton began riding at
age eight. His frst event was a Pony Club competition at age 16.
He relocated to Great Britain in the early 1990's and moved to the
U.S.A. in late 2012 when he was named the Canadian Eventing
Team International Technical Advisor. Clayton had quite a lot of
coaching experience prior to being named the Canadian coach. In
a short 18-month time frame, he mentored British-based Chinese
rider Alex Hua Tin from Novice level to qualifying for the 2008
Olympics in China. He was also Chef d'Equipe for the Hong Kong
eventing team at the 2002 Asian Games in South Korea and
winter training coach for the Baden Württemberg eventing squad
You see a different kind of talent when you watch Clayton
perform as the lead singer of his rock band Snatch. They have
Clayton and the nine-year-old German-bred Hanoverian
gelding Sorrento after their cross-country at the 2013 Red Hills
International Horse Trials.
Photo by Kim MacMillan/MacMillan Photography
several videos on YouTube including a couple of songs performed
at the Haras du Pin event in France, in 2012, and currently have a
song called "The Will to Win" for download on iTunes.
He and fellow eventer Lucinda Murray Fredericks have one
daughter, Ellie, age nine, who also rides. Clayton also owns
Southern Stars Saddlery, a company that specializes in saddles
designed by world-class riders, which is co-managed by his
brother Kelvin. Clayton's U.S. base is out of Chuck and Anne
Koch's Oak Lane Farm in Citra, Florida.
Clayton will be at the 2013 Rolex Kentucky Three-Day event,
but unfortunately not as a rider. His horse Waltersdown Don is
recovering from an injury. But, he will be coaching "his" Canadian
riders there. "I reckon Rolex is one of the best events in the world.
I'm always excited to go there and see the course. It's a fantastic
Clayton Fredericks –
Rockin' and Rollin
Clayton Fredericks and Pigrela des Cabanes, an eight-year-old
Selle Francais gelding owned by Pat and Hayley Parker of South
Africa, on the CIC2* cross-country course at the 2013 Red Hills
International Horse Trials.
Photo by Tammy Brown/MacMillan Photography
Life according to Clayton:
What he likes to do when not riding
and roll band, scuba dive and boating.
Biggest highlight of career
Final in 2005 with Ben Along Time.
Best trait in a horse -
Favorite horses so far?
If he could interview anyone, it would be -
Richards from the Rolling Stones.
Best advice he has been given?
His idea of happiness?
The feeling of achievement
no matter where that lies or what that is