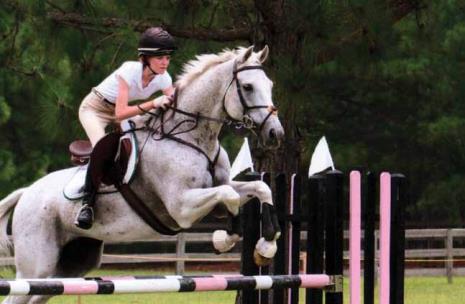 94 SIDELINES MAY 2013
FOR HORSE PEOPLE • ABOUT HORSE PEOPLE
"Three, two, one—GO!" Fling went; Fling always went. No jump
was too wide, narrow, tall or tainted for Fling to get to the other
side. No matter the length or level of the cross-country course, he
always fnished just like he began: his small ears perked forward
and his eyes eager with love for his sport.
When I frst met Fling I was 15 years old and had competed
through training level in eventing. I met him after my older gelding
fell on me during a lesson with Phillip Dutton, solidifying the fact
that I needed to fnd a new partner. It was thanks to Phillip and the
crew at True Prospect Farm that Fling found his way to me. His
owner, Gil Phillips, had left him in their hands and over the years
he'd become a seasoned one star horse at their barn. When he
came to me, he'd been off for a year due to a mysterious injury but
had come back sound and needed a rider.
For months, Fling drug me to the fences as though insisting
he knew much better than I. I couldn't argue most days and I
recall once we nearly careened over my mother who stood in the
gymnastic line to help slow him down. I knew I had a busy winter
ahead of me and flled it with lots of lessons to learn how to ride
I was still in Pony Club at the time and I'll never forget our clinic
with Scott Hassler at Hilltop Farm. Racehorse trainer [and friend],
Amy Jackson, was watching our lesson and couldn't contain her
excitement when I pushed Fling into a trot. She came bounding
out into the arena and fung her arms around Fling. No one could
understand what was going on until she managed to push away
her tears of joy and explain that she had trained Fling as a three-
year-old at the Fair Hill Training Center and had raced his mother,
too. Thirteen years later, she'd known it was Fling only by the way
his hind legs plaited as he walked.
After the lesson I called Fling's owner, Gil, to tell him of the
encounter with Amy. He sent me a DVD of all Fling's races and it
was no overstatement that he was an outstanding racehorse. In
nearly every race Fling led the pack from start to fnish. In only one
did he break badly and hug the rear only to burst to the front in
time to win the race in a three-horse photo fnish. The announcer's
words were, "Look out for the big gray machine coming up on the
outside; I told you he was the one to watch!"
Fling's years as a racehorse must have made him the world's
fttest horse. In my events that spring, Fling skipped around like a
kid on a playground. We began calling him, The Iron Horse, and
without a doubt, he lived up to the name.
He taught me this: Just point, kick, and hold on tight. In my frst
season of preliminary I was his protégée, clinging for dear life over
jumps larger than us, and allowing Fling to be my eyes, ears and
Our work paid off and that summer we represented Area II as
Fling
"My Story" is a frst person account of life in the equestrian
world. Would you like to write your story for Sidelines
Magazine? To be considered, send a brief description of
your story to editor@sidelinesnews.com
Area II Young Rider team.
Continued on page 96