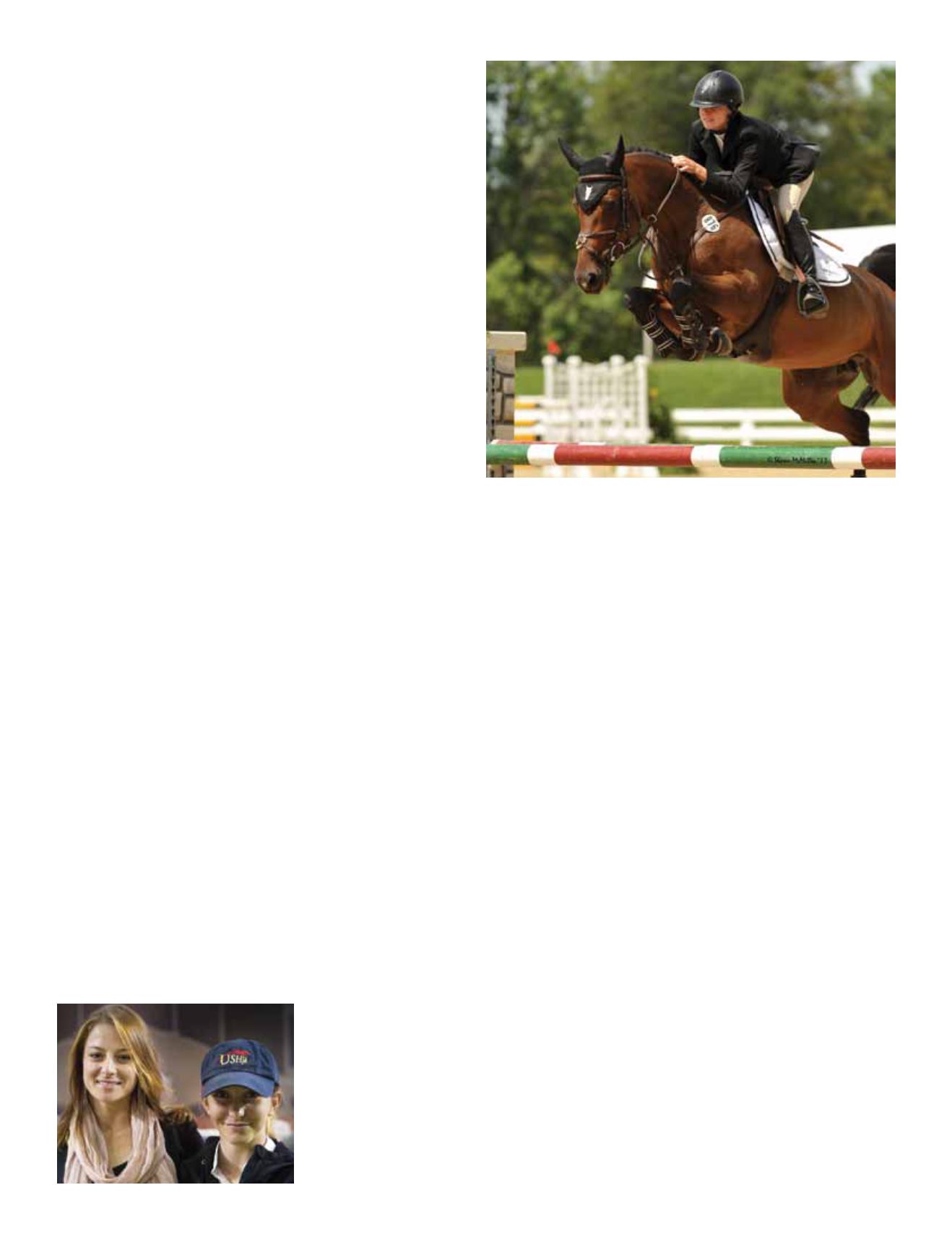 108 SIDELINES JANUARY 2014
FOR HORSE PEOPLE • ABOUT HORSE PEOPLE
Tatiana Dzavik:
An Inspiration to
Young Riders
Ask anyone at the Sacramento International Welcome Week
who was the star of the Saturday night grand prix and I'm sure
they will say Tatiana Dzavik. It was a star studded field of 71
competitors that included the likes of Will Simpson and Susie
Hutchison. With only 10 percent of the field returning for the jump-
off, Tatiana had not one but two horses qualify. It was a nail biter
to the bitter end. However, it was the 24-year-old Ottawa, Ontario
native, Tatiana, who led the victory gallop on her own horse,
Delphine DH. Her second horse, Friesel Van de Bakker, owned
by Ilan Ferder, finished seventh.
It was my first time seeing Tatiana in action. I remember
admiring how systematic her approach to the course had been
and yet she still delivered a blazing fast time. To lay down a ride
as technically accurate as she did and be so young was inspiring
to me as a junior rider. It was because of this that I decided she
would be my first interview for the Juniorside column.
Her riding career began like most young girls. Her parents sent
her to a local pony camp in Edmonton, Alberta, Canada when she
was only six or seven-years-old. It was a galvanizing experience.
She said she knew from that moment that riding horses was what
she wanted to do with her life. When asked what were some of
her career highlights, she donned a wry smile and asked, "How
far back do you want me to go?" In 1999, at the tender age of 10,
she was the Grand Pony Champion at the North American Show
at Spruce Meadows. She recalls how excited she was to be doing
the International Parade on her pony Let's Make Magic alongside
What may be more unusual for young girls growing up in this
sport is that she left home at the age of 15 to become a working
student. First, she moved to the United States to work with Bobby
Braswell. And then, in her final junior year, she moved to work with
famed equitation trainer Missy Clark. She attended many shows
including Devon and the Washington International Horse Show
where she successfully competed in the WIHS Equitation Classic
and the Maclay Finals. At 17, she began riding in the jumper
division competing in the high junior jumpers.
She credits both trainers for providing her with opportunities
she never thought possible. Tatiana states about her time working
with Missy, "I think she has taught me the most about work ethic.
I spent a year-and-a-half with her and she really shaped me as
a rider and as a professional. She really instilled an obsessive-
compulsive, leave nothing to chance, winning attitude in me.
Because Missy is, without a doubt, all day long a winner, winner,
Inside the ring, Tatiana is clearly an emerging talent. As a junior
rider myself, I asked her for any advice she might have that would
help today's young riders. She replied, "Believe in yourself and
your abilities. Don't let yourself get distracted by anything either
inside or outside the sport. Especially major distractions like
gossip and rumors. Any rising star is going to experience jealousy.
That's a very, very difficult thing to handle when you are a young
girl growing up. Don't let other people bring you down. Surround
yourself with the right people and the right trainers. Otherwise, the
wrong ones can have negative effects on your mind and abilities.
Today, Tatiana has forged some impressive relationships.
Among them, she represents Ilan Ferder and his business
partner Tal Milstein. She rides and develops sport horses from
Tal's barn, TMS Sport Horses, operating in Asse, Belgium. Tal's
barn has produced horses such as Cadett 7, Jonkheer Z and
Tristan. Tatiana began first in Southern California working with
Will Simpson and has since moved to Wildflower Ranch with rider/
trainer Simon Nizri. At Simon's she rides 6-10 horses per day,
manages the barn and details of training programs and also the
maintenance of the horses. She says of her relationships with
Ilan and Tal, "They have really taken a strong interest in me and
my career and have helped me out. They really kind of boosted
everything in my life and have given me the chance." Smiling, she
adds, "I'm a very, very, lucky girl. That's for sure."
Tatiana made for an excellent first interview because I could
relate to her. She has carved a path for herself in this sport with
genuine, real-world work. That, coupled with her winning attitude,
is a true combination for success. I can't wait to see how her career
evolves here on the West Coast. If you haven't spotted her at the
shows yet, keep your eyes open. Tatiana Dzavik is one to watch.
About the writer: Sophie St. Clair is a high school freshman from Southern
California. She has an interest in the psychology of high performance athletes. She
is also a Junior Ambassador for Children's Hospital Los Angeles where she works
to raise funds and awareness for the hospital. Sophie is working toward becoming a
professional show jumper but is taking it "one jump at a time."
Tatiana and Cascada at the Kentucky Horse Park.
Sophie St. Clair at the Del