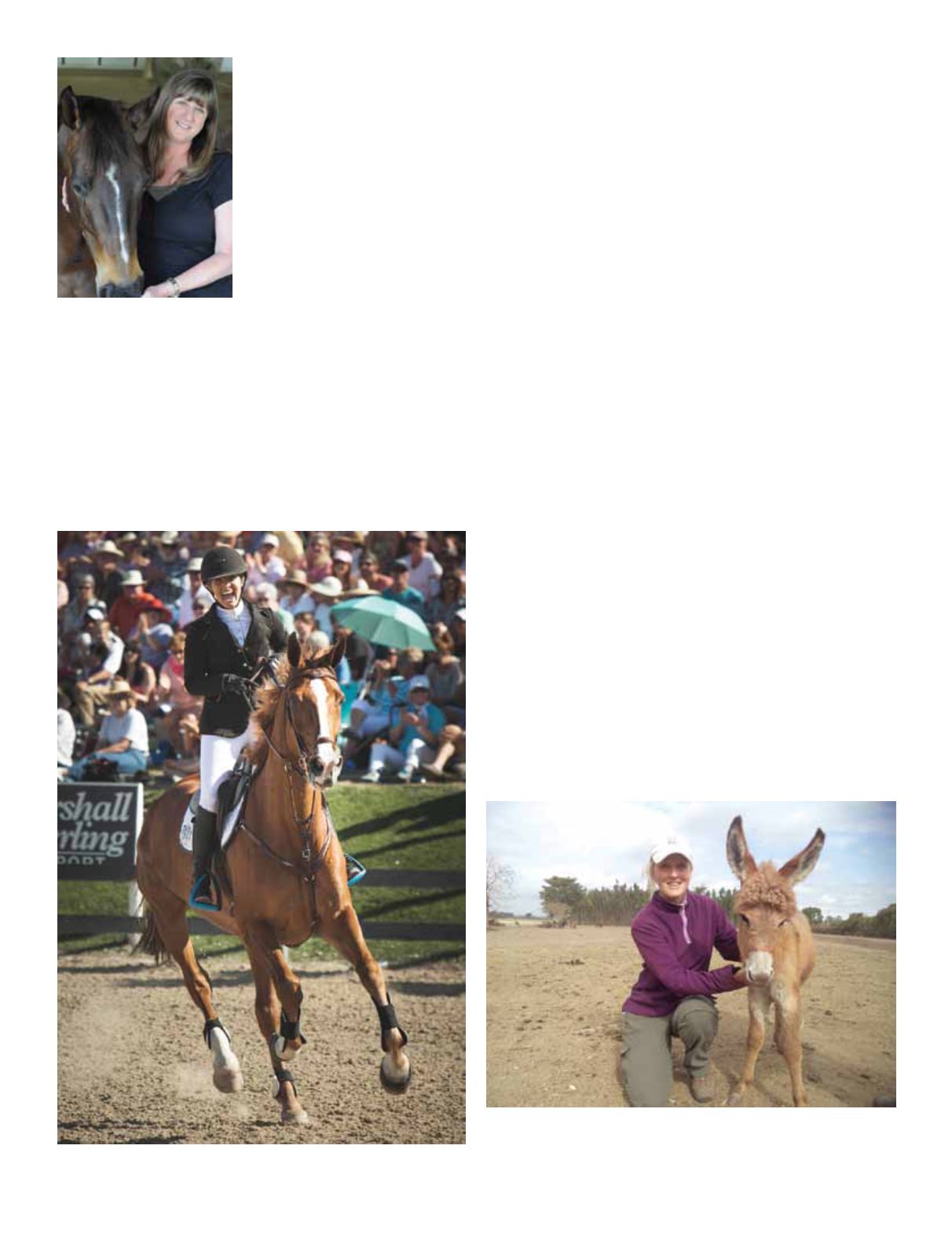 4 SIDELINES JUNE 2014
FORHORSEPEOPLE • ABOUTHORSEPEOPLE
fan of Steve's and now I'm a fan of his daughter's also. Ashlee's
story has a great lesson for all of us – if we get burned out from
thehecticpaceof thehorseworldwecanstepaway for abit –and
then comeback stronger thanever!Way togoAshlee, youarean
I'm also proud to introduce you to some wonderful equestrian
entrepreneurs thismonth— people who have invented products
or services that equestrians use. These entrepreneurs are the
movers and shakers of theequestrianworldand I enjoyed finding
out how their productsor serviceswere invented. Thanks to these
giftedpeople, thehorseworld is a better place.
Speaking of making the horse world a better place, check out
the storyonanorganization called theBrooke in this issue. Itmay
National Geographic
feel to it, especially the photos, and
that's because its employees head to remote countries to help
working horses, donkeys andmules have better lives. Her Royal
Highness theDuchess of Cornwall, thewife of PrinceCharles, is
thePresident of theBrooke, and theyhaveopenedanoffice in the
UnitedStates at theKentuckyHorsePark inLexington.
I was touched by what the Brooke does for horses in Ethiopia,
India and beyond. It certainly made me realize what wonderful
lives our spoiled and much-loved horses live. While
Sidelines
readersmay only beable to help financially, I'mglad to know that
theBrooke is out thereworking hard andmaking adifference.
I'malsoexcitedabout the futureof
Sidelines
print edition to our snazzy digital edition to our social media
presence. If youhaven't becomeourFacebook friend, thenplease
do. One of our entrepreneurs featured in this issue, Mary Ann
Jacobsen, had some kindwords for
Sidelines
"It's great that themagazineencompasses thewhole country and
so many different disciplines. I especially loved the article about
Mike Rubin (April issue) and the Potomac Hunt, since I have
hunted with Potomac and foxhunting has become my passion
over the last 15 years. Kudos to everyone at
Sidelines
made this amagazine for all horse enthusiasts."
Thanks, MaryAnn!We love sharing the horseworldwith horse
enthusiasts everywhere. If you haven't done it already, it's time to
come along for the ride and Catch the Sidelines Spirit – in Print
JanWestmark
Editor-In-Chief
Letter from
theEditor
British Olympic show jumper
Ben Maher graces our cover this
monthand if thereeverwasa "rider
on fire," Ben would be it. With a
team goldmedal to his name from
the 2012 Olympics, Ben made
headlines during the 2014 Winter
Equestrian Festival in Wellington,
Florida, for his multiple Grand Prix
wins.Althoughhe'sBritish, Ben spends agreat deal of time in the
United States riding for American owner JaneClark. I think you'll
enjoy the story onBenand his ride to the top.
We also have a great story on California show jumper Ashlee
BondClarke in this issue, and her story shouldmake you smile –
especially themainphoto.Thesaying "apicturepaintsa thousand
words" is certainly true inAshlee's case, although I think all of us
would smile that big if we'd just won amillion dollar Grand Prix. I
Ashlee rides out of her family's farm in California, and some
of you may remember Ashlee's dad, Steve Bond, from the soap
General Hospital
. (He played Jimmy LeeHolt.) I was a big
Read all about AshleeBondClarke's journey fromHollywood to
themillion dollar GrandPrix.
AshleighBrown's story on theBrooke, an international equine
welfare charity, is a touching look at thework this great
organization is doing to care for horses, donkeys andmules
around theworld.
Photo courtesy of theBrooke