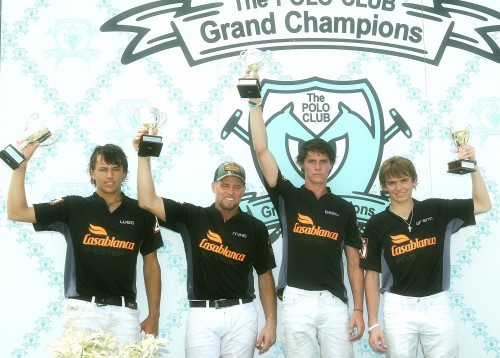 Congratulations to Casablanca teammates, from the left, Wes Finlayson, Mike Azzaro, Juancito Bollini and Grant Ganzi on winning the USPA Kay Colee Memorial Tournament at Grand Champions.
News from Grand Champions Polo Club — Casablanca defeated Palm Beach Polo, 10-9, in sudden death overtime to capture the USPA North American Cup in the club's fall 2014 season finale. For Grant Ganzi, (pictured) a junior at St. Andrew's School, and at 16 the youngest player in the tournament, the victory held a special meaning. He is the third generation Ganzi to win the coveted USPA North American Cup. His grandfather Wally and father Marc also won the prestigious Cup. "I am really psyched to win a great trophy that's been passed down in my family for three generations," Grant said.
For all the gossip and photos subscribe!
Double D Trailers Info