Saugerties, NY – September 19, 2013 – The best dressage riders in North America are facing off in two highly-regarded competitions, and PSdressage.com is on hand to give you an inside look. The action begins this weekend in Saugerties, NY, and moves to Devon, PA, for Dressage at Devon the following week.
Saugerties is home to the New England Dressage Association's Fall Festival of Dressage. The Fall Festival is comprised of four competitions: the Saugerties CDI-W Y/J, an FEI-recognized competition giving riders the opportunity to pick up qualifying scores for international events; the Great American Insurance Group/United States Dressage Federation Region 8 Championships; a National Competition; and the Sport Horse Breed Show.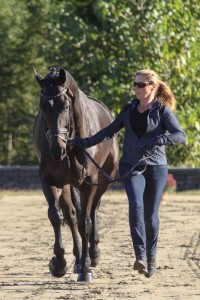 Kimberly Herslow and Rosmarin 
Coverage at  PSdressage.com will include daily wrap-ups of the major classes, interviews with top riders and photographs from around the showgrounds.
Visit http://www.psdressage.com/viewarticle.php?id=641 to find out how today's FEI horse inspection went and hear from some of the competitors in the small and large tour events. Stay tuned for daily updates from the show.
Visit our photo gallery of today's jog at http://psdressage.com/gallery/Saugerties2013Jog/.
Stay tuned for daily updates from the show at PSdressage.com.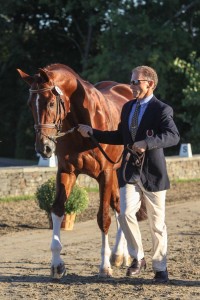 Tom Dvorak and Viva's Salieri W received one of two best-dressed awards, sponsored by Show Chic and Equiline, at the FEI Horse Inspection