North Salem, NY – September 14, 2013 – Each year, junior riders work diligently to earn points for the ASPCA/NHSAA Maclay Regional Championships. Today, the top competitors from Region 2 gathered at Old Salem Farm during the at 2013 American Gold Cup CSI4*-W to showcase their skills and qualify for the ASPCA Maclay Championships at the Alltech National Horse Show. After an over fences phase, a flat phase, and a test of the top four, it was Michael Hughes of Allendale, NJ, earning the win aboard Curtis, owned by North Run of Warren, VT.
Sixty-one entries competed in the first phase over fences for judge Ralph Caristo in the Indoor Arena at Old Salem Farm. The course began with 'S'-shaped bending line from a vertical to an oxer to a vertical. The competitors then continued to a direct vertical-oxer line, before making a bending line from a single vertical to a vertical-oxer in-and-out. Riders then continued to another bending line, before finishing with a long approach to a single oxer on the diagonal.
After the over fences phase, riders were divided into four groups for the flat phase. Beginning on the left lead, they were asked to drop their irons and showcase a sitting trot, rising trot, and canter. They then were able to pick up their irons, reverse direction, and show the same gaits on the right lead.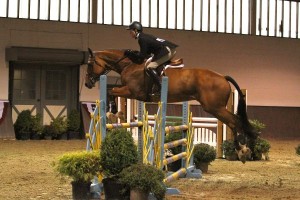 Michael Hughes and Curtis
Photo by Rebecca Walton 
At the end of the evening four riders were called back for the final test in reverse order: Victoria Colvin, Megan MacPherson, Michael Hughes, and Lillie Keenan. They had to begin with the 'S'-shaped line, cantering the first vertical, counter cantering the oxer, and trotting the second vertical. They then hand galloped a single oxer on the diagonal before halting at the end of the ring and trotting back to the line.
Victoria Colvin went first with VIP Z, showcasing a beautiful hand gallop that helped her edge up into the third place position. Megan MacPherson was the first rider to land in the counter canter with Great Expectations, but a slower hand gallop garnered the fourth place award.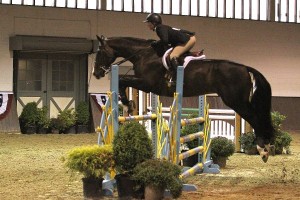 Victoria Colvin and VIP Z
Photo by Rebecca Walton
Michael Hughes was next with Curtis, and despite their new partnership they were ready to win. The duo landed in the counter canter before taking a sharp inside turn to the trot jump, and making a precise halt after hand galloping the oxer.
Lillie Keenan made the same inside turn with Clearway, and executed a very even trot jump, but Hughes' brilliant test was enough for him to claim the lead while Keenan placed second.
"The first round I just wanted to have a smooth round, I wasn't really trying to win it, I just wanted to get qualified for Kentucky," admitted Hughes. "This is only the second time I have shown Curtis, so I was just hoping it would go well."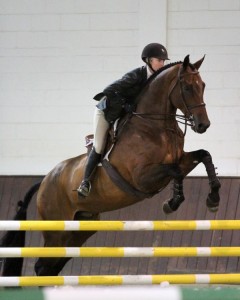 Lillie Keenan and Clearway
Photo by Rebecca Walton 
Hughes only began showing Curtis at the Hampton Classic, where the won two classes, but the flat phase and test added a new element for the pair. "He's very easy; he's very straightforward," noted Hughes. "He has a big stride and he's easy to find the jumps on. I had never been in a flat class with him, but I know he doesn't have a bouncy trot, so we would be fine without our stirrups. In the test, I was going to try and land the lead after the first jump, but I never counter cantered him or did a trot jump on him. I figured I would try it because I knew I was in the top four and knew I was qualified. It all worked out."
Hughes trains with Missy Clark of North Run, who was very pleased with his first round of the day. "I thought it was a really beautiful trip," she stated. "It was accurate an efficient, and he answered the questions that were posed by the course.  His position is so strong, he's such a strong, accurate rider, so I was really pleased with both his performance and the horse because Michael hadn't done a lot with the horse. It was a good match."
Clark continued, "During the test he really went and got it. He started the test and when he landed the lead he was in it to win it. That's the hardest test, and it was a really short turn. I thought it was a great test."
Old Salem Farm has proved to be the perfect venue for the Regional Championship. "They have done such a beautiful job," expressed Clark. "It is probably one of the best shows in the country. It feels very European in flavor with the grass field and the setting. It was great effort on the part of everyone that manages the show and it's exciting for the kids to be here and have the opportunity to watch the Gold Cup. "
All of the top entries from today's Regional Championship have qualified for the ASPCA Alfred B. Maclay National Championship at the Alltech National Horse Show. The 2013 American Gold Cup CSI4*-W at Old Salem Farm will continue tomorrow with the $200,000 American Gold Cup CSI4*-W World Cup Qualifier, presented by Suncast, which gets underway at 2:00 p.m. on the Grand Prix Field.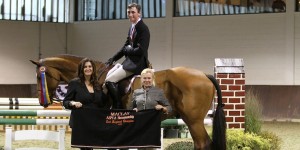 Michael Hughes and Curtis 
Photo by Rebecca Walton
For further information, visit: www.stadiumjumping.com and http://www.theamericangoldcup.com/.
Class 161, REGION 2 ASPCA/NHSAA MACLAY ROUND I
1            668           CURTIS                                       MICHAEL HUGHES
2            491           CLEARWAY                                  LILLIE KEENAN
3            404            VIP Z                                            VICTORIA COLVIN
4            248           GREAT EXPECTATIONS              MEGAN MACPHERSON
5            84              CLOVER                                       MAGGIE SAVOIE
6            243            CARAMOS                                    LUCY DESLAURIERS
7            716            FIROANO Z                                   KRISTEN MOHR
8            336            VAN GOCH                                    ALLISON HAUPT
9            379             VENICE                                         AILISH CUNNIFFE
10            217           POLLUX                                         ALEXANDRA MURPHY
About the American Gold Cup
The American Gold Cup features world-class and Olympic athletes, such as Beezie Madden, reigning FEI Rolex World Cup Champion and two-time Olympic Gold Medalist and Olympic Gold Medalist McLain Ward. Also confirmed to compete are show jumping mega-stars Kent Farrington, Margie Engle, Pan American Games Gold Medalist Christine McCrea and many more, all vying to secure their position at the World Cup Finals in Lyon, France
The featured event, the coveted $200,000 American Gold Cup, Presented by Suncast, will be held on Sunday, September 15, 2013 and broadcast on NBC Sports Network the following Sunday,
September 22, 2013, at 4:30 p.m. EST.
Old Salem Farm, located an hour north of New York City, boasts a state-of-the-art stabling facility, an historic pristine grass Grand Prix field and outstanding competition and schooling arenas, all of which are surrounded by one of the world's most quaint and picturesque competition venue settings. For the past two years, the Old Salem Farm competitions have been recognized by the North American Riders Group (NARG) on their NARG Top 25 List. For more information on Old Salem Farm, including its year-long competition schedule, prize lists, clinics, boarding, lessons and training, visitwww.oldsalemfarm.net.
For further information, visit: www.stadiumjumping.com and http://www.theamericangoldcup.com/.
43rd Annual American Gold Cup Fast Facts
What: The $200,000 American Gold Cup, Presented by Suncast, an FEI World Cup Qualifying Competition CSI4*-W
When: September 11-15, 2013
Where: Old Salem Farm, 190 June Road, North Salem, NY
Hours:
Sunday: Gates open at 11 a.m. with family activities with the The $200,000 American Gold Cup, Presented by Suncast, an FEI World Cup Qualifying Competition CSI4*-W at 2 p.m.
Facility: Old Salem Farm is New York State's Westchester County's premier equestrian facility, offering 26 annual competitions, boarding, top-level training and sales. It offers state-of-the-art facilities surrounded by 120 gorgeous acres.
Parking:
Available on the grounds with nearby overflow parking and shuttle service
Directions:
From Interstate 84 or Interstate 287: Take Interstate 684 to exit 8 (Hardscrabble Road), turn right. Old Salem Farm is on the right.
Information:
During Competition – (914) 669-5610 ext 201
Stable Office – (941) 744-5465
Trade Fair – Matt Morrissey (941) 915-3457
Website – http://www.theamericangoldcup.com/
Results:
Results are available at www.ShowNet.biz.
Coverage of American Gold Cup will be provided by ShowNet to the USEF Network at:http://usefnetwork.com/.
Televised Broadcast: The 2013 American Gold Cup, Presented by Suncast will be broadcast on NBC Sports Sunday, September 22 at 4:30 p.m. EST.
Tickets:
Saturday and Sunday: Admission is $15 per person, $10 per child 4-12 years and seniors 65+, children 3 and under are free.
Gates open at:
Sunday: 11 a.m.
Tickets are available at the gate and online at www.theamericangoldcup.com
Jockey Club
The Jockey Club offers full service gourmet cuisine and beverages for tables of six and eight. Clickhere to reserve your Jockey Club table. New this year, The American Gold Cup is adding luxury suites for parties of 10 or more on the second floor of the Jockey Club. For more information and to reserve your American Gold Cup luxury suite, contact Matt Morrissey at:matt.morrissey@stadiumjumping.com.
Charity Partners:
JustWorld International
http://www.justworldinternational.org/
ASPCA
Sponsorship Opportunities:
April Wehle
561.459.9259
Connie Sawyer
518.461.6288
sawyer.equestrianevents@gmail.com
Ring dimensions and footing:
Grand Prix Field 350'x450′, footing bluegrass mix turf. Grand Prix Annex 200'x250′, Schooling 130'x170′. Jumper Annex 146'x307′, Schooling 155'x173′. Indoor 115'x195′, Schooling 74'x135′. Hunter 138'x243′, Schooling 108'x158′. Footing in all arenas is all- weather German-designed fiber and sand.
Hotels:
Official Hotel of the American Gold Cup
Danbury Crown Plaza
http://danburyplaza-px.trvlclick.com/
(877) 270 1393
Ridgefield, NY
West Lane Inn (203) 438-7323
Brewster, NY 5-10 min
Heidi's Motel (845) 279-8011
Mt. Kisco, NY 5-10 min
Holiday Inn (914) 241-2600
Danbury, CT 10-20 min from grounds
Hilton Gardens (203) 205-2000
Comfort Inn (203) 205-0800
Danbury Plaza (203) 795-0600
Ethan Allen (203) 774-1776
Spring Hill Suites (203) 744-7333
Residence Inn (203) 797-1256
Management:
Stadium Jumping, Inc
1301 Sixth Ave. West, Suite 406
Bradenton, FL 34205
Tel: (941) 744-5465 Fax: (941) 744-0874
Sponsors:
Suncast
Danbury Porsche
http://danbury.porschedealer.com
Danbury Audi
Hermes
Double H
Windsor Show Stables
http://www.windsorshowstables.com/
Mitchell Innes & Nash Fine Art
Purina Animal Nutrition
Don Little Memorial
Jeffrey Terreson Fine Art
Roberto Coin
Ariat
THIS
Devoucoux
http://www.devoucoux.com/devoucoux_fr/contenu/us/index.php
Skiffingtons LLC
Dyer Equestrian
Samshield
Stronghold Equine
http://strongholdequineequipment.com/
Animo
http://theanimoexperience.com/
Der Dau
Trelawney Farm
Aden Brook
The Dutta Corporation
Coca-Cola
Farm Vet
Houlihan Lawrenece
http://www.houlihanlawrence.com/
ESI Footing
http://www.equestrianservicesinternational.com/esi/
DJ Johnson
http://www.johnsonhorsetransportation.com/
GiGi New York
Media Sponsors:
Equestrian Quarterly
http://equestrianquarterly.com/
Morris Media Group
Horse & Style Magazine
Media Contact:
Phelps Media Group, Inc.
12012 South Shore Boulevard, Suite 105 Wellington, FL 33414
Tel: 561.753.3389  Fax: 561.753.3386