Upper Marlboro, MD – September 24, 2013 – The 2013 Capital Challenge Horse Show (CCHS) presented by The Gochman Family is just days away, kicking off on Saturday, September 28, at Prince George's Equestrian Center in Upper Marlboro, MD. The show begins with its Equitation Weekend presented by Bigeq.com, and the fantastic competition continues through October 6 with top USEF "AA" rated events. The management team at Capital Challenge looks forward to welcoming many of the nation's top horses and riders for its 20th year of exceptional equestrian sport.
Equitation Weekend Welcomes the Nation's Top Young Riders
One of the highlights at Capital Challenge is the Taylor Harris Insurance Services (THIS) National Children's Medal Finals, which will be held during Equitation Weekend on Sunday, September 29. Following a year-long qualification process, the nation's top children's riders will compete through two rounds in an attempt to take the national title. Fifteen-year-old Avery Hinson of New Albany, OH, sits third in the standings coming into this weekend's competition and looks forward to the opportunity to show.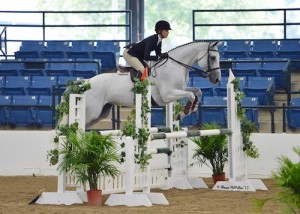 This is Hinson's third and final year competing in the children's medal classes and her first year qualifying for the finals. Hinson rides with Angela Moore at Stealaway Farm in Dublin, OH, and will show Elaine (shown at left, with Hinson), an 11-year-old Warmblood mare that she recently leased.
"It is quite surreal to finally be going to the THIS Finals and I'm so excited to have this opportunity," Hinson noted. "Last year I was in the top 40, but was knocked out in the final week, so it is a relief that I made it this year! Even though it is my third year competing in the THIS medal classes, they didn't get any easier."
Hinson is happy to be sitting third in the country coming into the finals and explained that she tried to be as consistent as possible at every show this year.
"The THIS Finals are very hard to qualify for because you have to place well in almost every class you show in to stay in the top 40," she detailed. "Because the barn I ride with tends to travel to the larger equestrian destinations, I have had the opportunity to compete at the Winter Equestrian Festival, all the way up to the Lake Placid Horse Show in New York where I have gained a lot of experience, which I think will help me greatly. I look forward to the Finals this year and can't wait to see what it has in store for all of us. I also can't wait to reunite with my friends that live all over the country that will be there."
New Artwork by Michael Tang Revealed for 2013 Show Program and Official Poster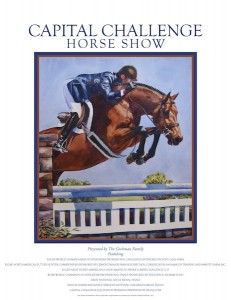 Every year, the Capital Challenge Horse Show's program and official poster feature new artwork by artist Michael Tang. This year's cover art is a beautiful painting of 2012 World Championship Hunter Rider champion Scott Stewart and one of his top mounts, Dedication, owned by Dr. Betsee Parker.
The process that goes into creating the cover art each year is a great challenge for artist Michael Tang, and he is meticulous in his research and planning.
"Each year, as I begin to think about rendering the painting for the Capital Challenge poster, there is anxiety," Tang expressed. "Will I be able to find a suitable photo to use as inspiration; one that flatters both horse and rider? In the last eighteen years or so that I've created the painting for the poster, there have been only one or two times that I've found a photograph that I can utilize straightaway."
Tang explained, "As one might imagine, there is never one photo that is perfect. There might be good shot of the rider in which his equitation is exemplary, but then he or she is riding a different horse. Little by little, answers are found and forms take shape and there is always relief when the end is in sight, in other words, when I know instinctively how to finish the final painting."
Father Michael Tang is a professor, priest and an artist who paints large watercolors reflecting his interest in religious subjects, his life in California, and of course his love of horses. Tang received his bachelor's degree in studio arts from Loyola Marymount University in 1981, as well as a Masters of Fine Art in painting from the School of the Art Institute of Chicago in 1983. He earned two other master degrees in theology and divinity from the Jesuit School of Theology in Berkeley, California.
He is a Professor of Art and Art History at Loyola Marymount University in Los Angeles, California. The award-winning artist specializes in brilliant watercolors and his sporting art has appeared on the covers of The Chronicle of the Horse, Horse Show, The New York Times Magazine, and Dressage Today, as well as many other publications. When not teaching or painting, Tang enjoys bringing along young show hunters.
Posters will be available for sale at the souvenir stand located on the concourse of the Show Place Arena at the Prince George's Equestrian Center.
About Capital Challenge
In its 20th year, the Capital Challenge Horse Show sets itself apart with a distinct and unique focus on preeminent hunter competition. Held each autumn at the Prince George's Equestrian Center in Upper Marlboro, MD, this year's show will take place on September 28-October 6.
Top competitions include the ARIAT National Adult Medal Finals and the THIS National Children's Medal Finals, along with the Capital Challenge Equitation Weekend, presented by Bigeq.com. In addition to these prestigious equitation events, the Capital Challenge Horse Show will once again host the World Champion Hunter Rider Finals and will assemble the country's best horses and riders to compete in junior, amateur, and professional hunter classes.
For more information, please visit www.capitalchallenge.org or visit the Capital Challenge Horse Show page on Facebook!
Top Photo: © Shawn McMillen Photography – www.shawnmcmillenphotography.com. These photos may only be used in relation to this press release and with full photo credit.