After winning her very first grand prix at Horse Shows by the Bay, 
Happy Z returns for No. 55.
Traverse City, MI – July 21, 2013 – Happy Z has an affinity for Horse Shows by the Bay. The flashy chestnut won the first grand prix of her venerable career eight years ago in Traverse City, and she returned today to log her 55th victory in the $30,000 Grand Prix of the Great Lakes.
"At this point, I appreciate every good class, where before you take things for granted," said owner and rider Wilhelm Genn. "Now, she doesn't have to win, just jump well, and you really appreciate it."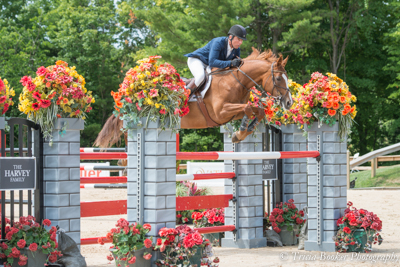 Happy Z and Wilhelm Genn
Genn and Happy Z, a 15-year-old Dutch Warmblood mare, had the fortunate final spot in the five-horse jump-off during the featured jumper class of Horse Shows by the Bay Series III.
After the first two contenders–Martien van der Hoeven riding South Bound and Theo Genn aboard Paradox–each dropped a rail on the shortened course, Amanda Derbyshire and David Gochman's Attack II posted the first clear with a strong time of 45.81 seconds.
Derbyshire's lead didn't hold for long, however. Charlie Jacobs and Flaming Star, winners of the $10,000 Positive Step Farm Open Jumper Welcome Prix on Friday, sought another blue-ribbon finish.
Jacobs, of Boston, MA, and the Irish-bred gelding flew around the eight-fence course, even taking an inside slice over a set of decorative flowers on their way to a clear round in 44.30 seconds, more than a second faster than Derbyshire's time.
Genn smiled as he walked past Jacobs and into the Grand Prix Ring, surveying his track one final time before he picked up a gallop.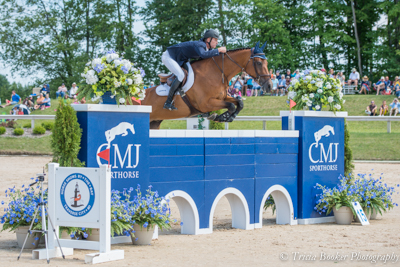 Flaming Star and Charlie Jacobs
"Well, I knew Charlie was going to go really fast. I would have done the same thing," said Genn. "And, actually, when I saw him go I didn't think I'd be able to go faster. He had that inside cut on the Walgreens fence, which I knew I wasn't able to do with her. She has a really strong left drift, so I wouldn't have gotten her to the jump, so I had to go around."
Genn knew he had a quick horse under him, so he focused on being neat and efficient everywhere else on the course twisty course.
"I think from [fences] 1 to 2 I was faster and also from 2 to 3AB," he said. "Going into the combination, Charlie did one more stride than me. I think we made a similar turn to the wall, but my horse was a little bit quicker overall."
Following the CMJ Sporthorse wall, riders had a left-hand turn and long gallop to the final fence, the brightly colored butterfly oxer. It had already fallen once in the jump-off, and Genn knew it could make or break his day.
"I saw the distance [to the butterfly] with one less stride," he said. "But I knew she would have had it down. So, at that point I was like, 'OK, to jump clean I'm going to have to back off that front rail, and it might cost me first place.'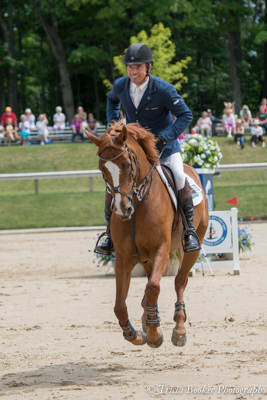 Happy Z celebrates
Happy Z rubbed the front and back rails as she soared over it, but they remained in the cups, and they stopped the clock in 43.57 seconds.
"I knew if I had kept going she would have had that front rail down," he continued. "See, even with me pulling her back she rubbed it; guaranteed, she would have had it down. I know her that well.
"I was lucky that it turned out," he added with a smile. "At that moment, I actually thought I'd probably lost the class. So, I was really happy when I landed and turned around [to see the scoreboard]. That was pretty cool."
Happy Z's grand prix career has now spanned eight years, with more than $1 million in lifetime earnings. The Zangersheide-bred mare (High Valley Z–Anais-Anais Z) currently leads the national standings for lifetime grand prix wins of $25,000 or more.
"The only horse that is close to her is Flexible [ridden by Rich Fellers]," said Genn. "Flexible is 17 and still going. He's four wins behind her, unless he's won one that I don't know about. Happy Z never went to the Olympics or the World Cup, so it would be nice for her to keep that record."
Genn said he considered retiring her last fall but then decided to postpone that decision. He told his wife, Patty, that he'd take her to one more show and then decide if it was her time.
"I took her to Kentucky, and she was amazing. So I said, 'I think she wants to go a little bit longer.' She has been such an amazing horse for me, and it's not easy for her, so she works hard. I appreciate all she has done, so I don't want her to compete when she doesn't do well anymore and it becomes a struggle. She's been too good."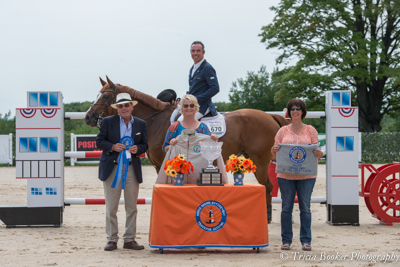 Happy Z and Wilhelm Genn receive their award from, left to right, course designer Michel Vaillancourt, show manager Alex Rheinheimer and sponsor Patrice Schreiber
Genn praised the Horse Shows by the Bay Grand Prix Ring footing as well as the Michel Vaillancourt-designed courses in play this week.
"He builds fantastic courses," said Genn. "Today's class was so fun to ride, and when you've been at it as long as I've been, when you have this much fun you perform better."
Genn, of Rheinland Farm in Lebanon, OH, has now won more than 100 grand prix classes in his career of 32 years, and he currently stands third in the USHJA Rider Lifetime Money Earned, with more than $1.7 million banked since 2005.
"I still love doing it, and it's fun, especially showing with my sons," he noted. "We almost had all three of us in the jump-off today!"
Ryan, 21, guided Cookie Monster to sixth, with just 1 time fault in the first round, while Theo, 23, qualified for the jump-off and placed fifth with a rail down aboard Paradox.
As for Happy Z, she'll continue her grand prix career only for as long as she wants to play the game. And, today, she showed her enjoyment with some exuberant bucks on her way out of the ring.
"She loves this kind of footing, so I'm picking and choosing the places I go, where the weather is cooler," he said. "Today, this is her weather and her footing. This makes her feel good."
To watch Genn and Happy Z in action, please click here.
Francesca Dildabanian, of New York, NY, also felt good about her day. The 11-year-old escorted Pride into the Vankampen Ring to receive the Large Pony Hunter Championship, the Grand Pony Championship and the blue ribbon for victory in the $1,000 HSBB Pony Hunter Classic.
Dildabanian arrived at Horse Shows by the Bay this week to show during Series III and IV under the watchful eye of trainer Molly Ashe. The 9-year-old, Welsh-Thoroughbred cross (Downland Rembrandt-Little Winkel) is currently in his green year of showing.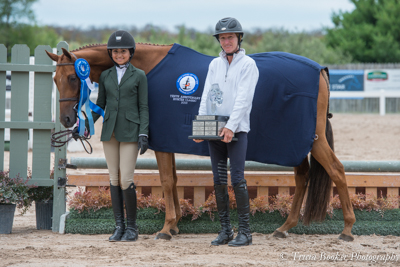 Pride with rider Francesca Dildabanian and trainer Molly Ashe
"I'm really proud of my pony," said Dildabanian who earned 46 points for the honors. "He's so sweet, and he came and walked into the ring like it was no big deal. He's great. He's never been here before, and he was so brave. If we have faults it's usually on my part and not his. He was really great this weekend."
Dildabanian earned scores of 88 and 90 for her Pony Classic win, the first 90 she's received with Pride. Ashe described Pride as a large pony with the old-fashioned Thoroughbred look.
"Frankie's really come a long way," said Ashe, who started training Dildabanian this winter. "Since I've known her, her riding's gotten quite good. He's got a nice big stride, and the jump is heaven it's so pretty. So the picture itself, with Frankie aboard, you can't help but notice as she goes by."
The Gochman family, of New York, NY, also celebrated tricolor honors today in the pony hunters, with Sophie taking the Small Pony Hunter championship aboard Hi Lite and Mimi the reserve title with Rafael. Mimi also won a Medium Pony Hunter over fences class today aboard True Love.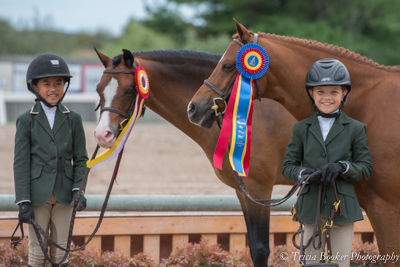 Sophie Gochman and Hi Lite, right, and Mimi Gochman and Rafael shared tricolor honors in the Small Pony Hunter section
In the Medium Pony hunter section, Hannah Bernstein took the championship honors with Barcelona, earning 21 points over fences, and Vanessa Rae Mazzoli posted the same number of points for the reserve championship aboard Find The Love. Mazzoli and Find The Love also earned second-placed honors in the HSBB Pony Hunter Classic with two stellar performances.
In today's $2,500 USHJA National Hunter Derby, sponsored by Walgreens, David Beisel took the blue on Phyllis Harlow's Lavish, a 9-year-old Westphalian gelding (Don Bedo-Hauptstutbuch).
Beisel earned a score of 85 in the first round, where he conservatively took the low options. Beisel, who hadn't shown Lavish since last year, was impressed by how well the bay gelding was jumping and his honest character.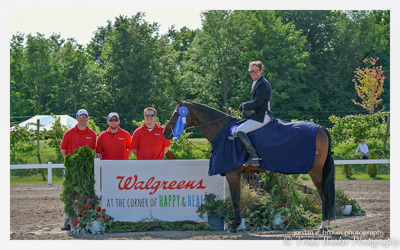 Lavish and David Beisel with the Walgreens sponsors
In the second round,
Beisel received a score of 88 for a total of 173 points, taking top honors. In his victory gallop, Beisel surprised the crowd by leading the top 12 over a final jump while sporting his Horse Shows by the Bay cooler.
To see Beisel and Lavish on their way to victory, please click here.
Follow the action on July 24-28 during Horse Shows by the Bay Series IV.
Competition will be held in all five rings, with the Grand Prix Ring and R.L. Polk Family Main Hunter Ring streaming live thanks to ShowNet LLC and this week's free streaming partner, Alltech Equine TV. They're bringing the action right to your screen every day, beginning at 8 a.m. Go to www.horseshowsbythebay.com and click on "Watch It Live."
For full show results, please visit www.horseshowing.com.
For daily updates and photos, please visit the Horse Shows by the Bay Facebook Page.
For more information, schedules, directions, or to Watch It Live, please visit www.horseshowsbythebay.com.
Horse Shows by the Bay – Flintfields Horse Park – 6535 Bates Road – Williamsburg, MI 49690