Harrisburg, PA – October 11, 2013 – In an exciting night of junior jumper action, the Zone 5 team captured their second consecutive gold in the $15,000 Randolph College/USEF Prix de States Team Championship at the Pennsylvania National Horse Show tonight. Under the guidance of team Chef d'Equipe Alex Jayne, the Zone 5 Team consisted of: Kalvin Dobbs, of Carmel, IN, rode TEA PARTY; Gabriela Mershad of New Albany, OH, was aboard SKARA GLEN'S BASEL; Lauren Tyree of Chicago, IL, competed AUDI'S TOP SECRET; and Vivian Yowan of Lexington, KY, rode RALVESTHER.
The Prix de States Team Championship follows a modified Nation's Cup format whereas each team jumps one round. The six teams plus any ties accumulating the least number of faults will be required to jump a second round – the three best scores count for the team. Teams then return in reverse order of first round team scores. The winning team is determined by adding together the jumping and time penalties incurred by the three best competitors of each team in each round. It's an important competition for the Juniors, and all the team members tastefully decorated themselves and their horses to represent their own Zone team in the spirit of competition.
Zone 5 team newcomer Vivan Yowan, was one of only seven competitors who scored a clear trip in the first round of the night. Yowan was very pleased with the 15 year-old dutch mare RALVESTHER. "She's a really good horse", commented Yowan. "And she's such a good rider", added teammate Kalvin Dobbs. "It's so nice to see a Zone 5 rising star as we're leaving, and to know that someone we know will be here to continue." Dobbs, Tyree, and Mershad are in their last year and will be moving on to other things including college.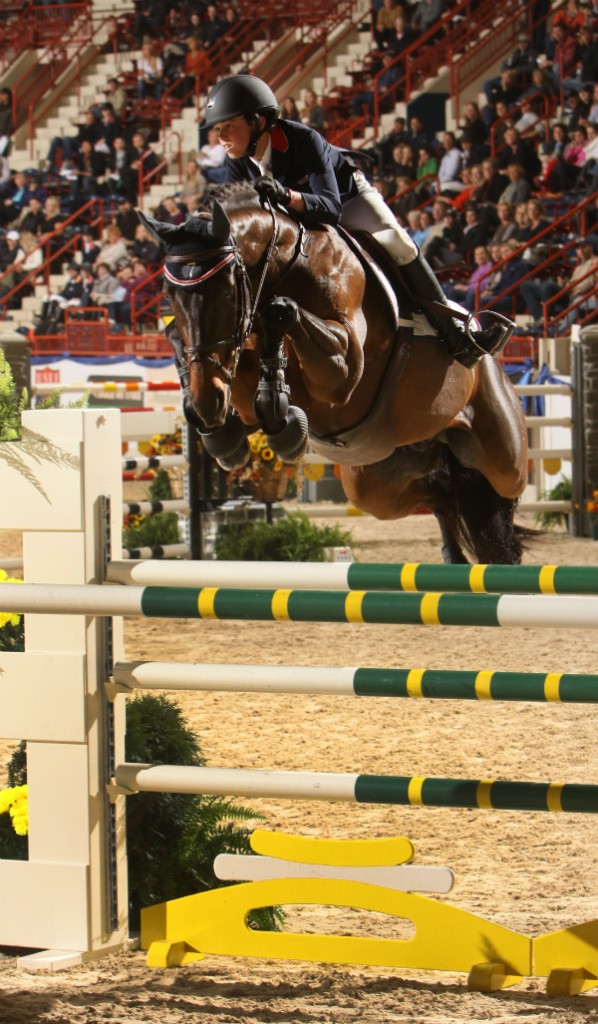 After the first round of the evening, Zones 1, 2, and 5 were in a three-way tie, having accumulated 4 faults each, thus putting the pressure on the riders going into the second round. Kalvin Dobbs on TEA PARTY, and Mershad on SKARA GLEN'S BASEL incurred 4 faults each for the Zone 5 team in the second round, but a clear trip from Lauren Tyree and the 13 year old Dutch gelding AUDI'S TOP SECRET secured the Gold for their team once again with an overall total of 12 faults.
The Zone 2 team tried their best to reclaim the top spot that they held in 2011, but this year it was not to be, and they had to settle for Silver with a total of 16 faults. The team consisted of Charlotte Jacobs and KACHINA; Michael Hughes and LUXINA; Katherine Strauss and CHELLANDO Z; and Lillie KEENAN and LONDINIUM. Zone 2 Chef d'Equipe was John Brennan.
The Bronze went to the Zone 1 team with a total of 20 faults. Chef d'Equipe Darren Graziano assisted team members Sydney Shulman and HH NARCOS DU MARAIS; Megan McDermott and BULL RUN'S BECKY BLUE; Dana Scott and KM WHATEVER RV; and Victoria Arute and ZAKENMAN ZAFFIER.
The scores Friday's Phase II class and Thursday's Phase I carry over into Saturday's Phase III of the Randolph College/USEF National Junior Jumper Individual Championship.
The Pennsylvania National Horse Show, the 2011 National Show Hunter Hall of Fame Horse Show of the Year and the sixth ranked horse show in North America in the 2012 North American Riders Group (NARG) annual rankings, is one of the largest indoor horse shows in the U.S. It hosts horses and competitors from across the country with 10,000 spectators attending from the Mid-Atlantic region.
With over 1,400 qualified horses competing for $450,000 in prize money, the show features Hunter and Jumper competition and is the site of the Pessoa/US National Hunter Seat Medal Final Presented by Randolph College, the Randolph College/USEF National Junior Jumper Championships, North American League (NAL) National Finals and the $85,000 Grand Prix de Penn National.
In addition to world-class equestrian competition, the horse show offers a unique shopping environment with boutique vendors that offer everything from fine art to custom jewelry, clothing, accessories and horse show memorabilia.
Proceeds from the event benefit community equine and youth programs. Since its inception in 1945, the Pennsylvania National Horse Show Foundation has donated over $1.5 million to charitable entities.
Horse show competition can be viewed live free of charge at www.usefnetwork.com and live scoring and results are available at www.Ryegate.com.
For more details on show events, competitors and vendors, please visit the show's website, www.PAnational.org or contact the Pennsylvania National Horse Show at 717-236-1600 or by email, eventinfo@PAnational.org.