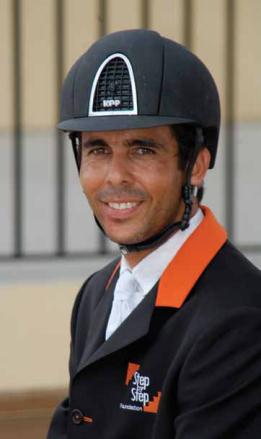 22 SIDELINES SEPTEMBER 2011
FOR HORSE PEOPLE • ABOUT HORSE PEOPLE
Five Questions for Hector Florentino
It has been a pivotal year for international show jumping
rider Hector Florentino: piloting Stransky's Mission Farm's
Ultimo to win HITS-on-the-Hudson's $100,000 Purina
Mills Grand Prix, a Pfzer $1 Million Grand Prix qualifer
and the birth of he and his wife Eve De Lengaigne's frst
daughter, Sofa Daniela.
Originally from the Dominican Republic, Hector's life
was set on a new course when he met Step by Step
Foundation's CEO Liliane Stransky at a beneft event
during the Winter Equestrian Festival in 2010. The duo hit
it off immediately, sharing a passion for charity work and
horses. It just so happened that Stransky was looking for
just the right trainer/rider to take the reins at Stransky's
Mission Farm in Wellington, Florida. The rest, as they
say, is history.
Sidelines:
How did you frst get involved with horses?
HF:
None of my family rode, though my uncle had a few
Paso Finos. I was introduced to horses as a little boy at a
summer camp close to my home in Santa Domingo. From
that point on, whenever I had the chance to ride them or
be around them, I would. I remember I'd leave, take my
lunch and go eat it while sitting on the back of a horse.
Being around horses, it was a thrill - and it still is!
Sidelines:
Did you always see yourself as a professional
rider living and competing in the US?
HF:
I went to engineering school, but my passion was
always with the sport. When I was in my early 20s, I
decided to make it my career. I didn't know how I was
going to do make it happen though, and I stayed riding
in the DR for a long time; but I never made the jump into
the big league there. It was my wife who encouraged
me to compete here in the US; she pushed me to take a
chance. And the perfect opportunity, like fate, presented
itself when I met Liliane at a charity event a mutual friend
was hosting. Since then, things have happened quickly!
There is no greater satisfaction for me than to be able
to communicate with these amazing animals, to perform
together as a team, at a high level in the sport… I have to
say, I have a very satisfying "job."
Sidelines:
What has been your most memorable moment
in the saddle, or victory, thus far?
HF:
My biggest wins have been aboard Ultimo, most
recently the $100K Grand Prix at HITS. I have ridden
many horses, some talented, and others not so much.
Ever since I've been teamed with Ultimo, things have
been changing. He is getting more and more powerful.
He's smart too, and knows how to get out of trouble, a
real tryer with a big heart. Liliane and this horse have
given me the opportunity to win some nice classes. I am
excited to say that we are qualifed for not only the million
dollar class at HITS, but also the Pan American Games in
Mexico. I don't like to plan to far ahead though; we are
Sidelines:
Now that you are competing against the top
international horse and rider combinations, do you think
you will be changing anything?
HF:
I am going to do the same thing that I have been
doing as it has been working. Competing against veterans like
McLain (Ward), Beezie (Madden) and Margie (Engle) is always
a learning experience. Their decisions in the show ring; where
to turn, whether to leave out strides; how to ride the jump off…
they are always interesting to watch. They often make choices
Sidelines:
Do you fnd it diffcult to both compete and train other
riders at the same competitions, does it make you nervous?
HF:
I train my students the same way I ride. Any nervousness
that I might feel when I compete myself, I want to transform into
excitement. I try to bring that same positive energy and attitude
to them. It is always exciting to see a young rider like Daniela
move up the ranks, going from the Children's to Juniors. Having
my students grow as riders, and hopefully win, is as important to
me as when I am in the show ring!
"When I was in my early 20s, I decided to make [riding] my career,"
says Hector Florentino