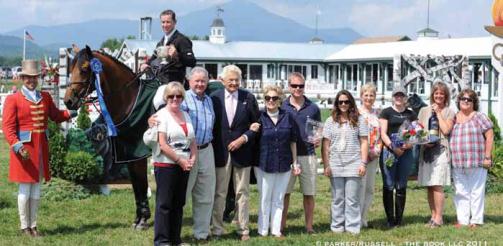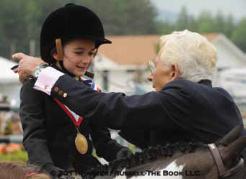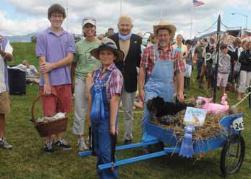 28 SIDELINES SEPTEMBER 2011
FOR HORSE PEOPLE • ABOUT HORSE PEOPLE
Lake Placid Horse Shows Were
Everyone's "Piece of Heaven In 2011"
Once again, the Intercat, Inc. Lake Placid Horse Shows
hosted hundreds of the nation's top horses and riders who
came to Lake Placid to compete for their share of a half-
million dollars in prize money and to enjoy the fun activities
and natural beauty of the Adirondacks.
With competition ranging from children in the Juliam Farm
Leadline class to Olympic veterans in the two Grand Prix, the
Lake Placid horse shows were everyone's piece of heaven!
In addition to featuring top-notch equestrian competition, Lake
Placid is the perfect summer vacation destination, making the
horse shows the best two weeks of a horseman's summer.
"This was a great year for the Intercat, Inc. Lake Placid
Horse Shows," said Richard M. Feldman, Chairman of the Lake
Placid Horse Show Association. "It was wonderful to welcome
back so many riders who compete here every summer, as well
as to meet those who came to Lake Placid for the frst time.
We owe the success of our horse shows to the riders, trainers
and sponsors who are with us year after year, as well as to the
people of Lake Placid who always make sure that everyone has
such a wonderful time while they are here."
Further information is available by calling the Lake Placid
Horse Show Association at (518) 523-9625 or online at www.
The frst week saw a thrilling win by Jonathan McCrea of Ireland on Colorado, owned by Candy Tribble and Windsor Show
Stables, in the $75,000 Mirror Lake Inn Grand Prix of Lake Placid, presented by Intercat, Inc., for the Whitney Perpetual
Challenge Trophy
All photos by Parker/Russell – The Book LLC
Lake Placid Horse Show Chairman Richard M. Feldman
presents award to a rider in the Juliam Farm Lead Line Class
The Doggie Costume Contest is an annual favorite at Lake
Placid