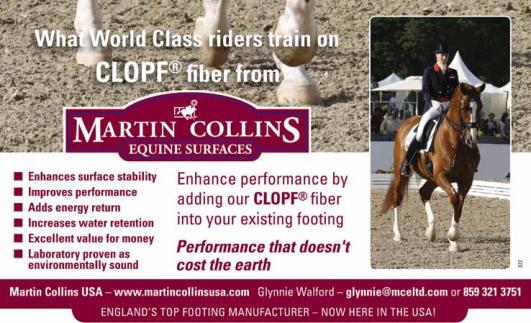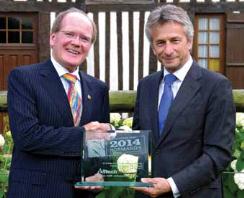 30 SIDELINES SEPTEMBER 2011
FOR HORSE PEOPLE • ABOUT HORSE PEOPLE
Catching Up: Shawna Dietrich
that when you have a hunter derby, you can count on
Shawna showing up for the presentations! Maybe she just
wanted to get out of the Kentucky heat?
Tom Bishop,
whom we profled in last month's issue
Five Questions for Tom Bishop, MFH
Upperville
in the Foxhunter's class.
Congratulations, indeed. Another brilliant feather in your
Michael Taylor
Bill Weeks
some big inroads into the hunter jumper world. They've
already booked a VIP table for this year's Alltech National
Horse Show and are hosting the opening night exhibitor's
Those media credentials for the Olympics in London in
2012 are really hard to come by. Congratulations to our
Erin Gilmore
KimMacMillan
Sue Stickle
Rebecca Walton
We're all excited for you.
Sydney Masters
lovely weather in France, and the CSIS*. The chateau and
race track are beyond belief, she says. Sydney says no
Mark Bellissimo
as beautiful as PBIEC is, it can't compare! We don't want
Mark to want to add a chateau to WEF! … or do we?
Don't you just hate it when horse show management and
horse show owners come to blows! Well it happened and
one really big show manager may not be returning next
Continued on page 32
Laurent Beauvais, chairman of the Basse-Normandie
Regional Council and Normandy 2014 Organizing
Committee, and Alltech president Dr. Pearse Lyons. Alltech
is the title sponsor of the 2014 FEI World Equestrian
Games™ in Normandy
Equestrian apparel company
Ariat
recently donated over 600
pairs of new riding breeches to
The Rider's Closet
Pegasus
Therapeutic Riding, Georgina Bloomberg's
for riders in need. The Rider's Closet accepts new or gently used
equestrian apparel and sends them to pony clubs, therapeutic
riding centers, scholastic teams and individual riders who request
show or lesson program clothing and boots.