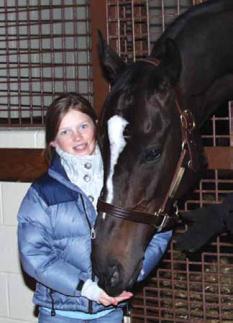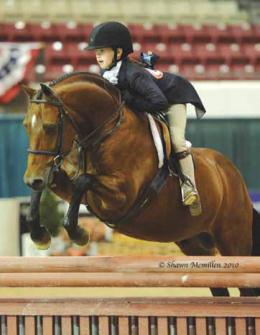 46 SIDELINES SEPTEMBER 2011
FOR HORSE PEOPLE • ABOUT HORSE PEOPLE
By Jan Westmark-Allan
Pony rider Daisy Farish has spent her entire life living on
a Thoroughbred racehorse farm in Kentucky, not only riding
her ponies but also enjoying the famous racehorses that
live there. Her family's farm, Lane's End Farm in Versailles,
Kentucky, is currently home to Zenyatta, the 2010 Horse of
the Year.
Zenyatta is wildly popular and Daisy knows her better
than most because she gets to spend time with her.
"Zenyatta is very polite. She loves pears and bananas, as
well as mints," Daisy said. "She loves all the attention her
fans give her. She is super friendly and even lets my little
sisters love all over her! I think she knows she is special!"
Daisy also has some special ponies in her life, including
her favorite pony Ballou, owned by Dr. Betsee Parker. "I
used to take Ballou on long walks around the farm and all
the yearlings would come running up to the fence to see
him! I think Ballou liked the attention because he would
just ignore them and keep walking along."
Daisy, who is 10-years-old, will show Ballou in the small
A Few Minutes with Junior
Rider Daisy Farish
ponies at Pony Finals this year. "I travel all year showing," she
said, adding that her two older sisters used to show, and now her
fve-year-old sister Coco shows and her baby sister, Stormy, has
started riding at home.
Sidelines:
What do you like about living on a racehorse farm?
DF:
I love living on a Thoroughbred racehorse farm because I
love watching the babies being born, picking out which ones I
think will have a great racing career and then seeing if I am right!
It's fun to see the stallions and then follow what their babies do
Sidelines:
Have you met any other famous horses beside
DF:
I have met A. P. Indy, Curlin, Mineshaft, Lemondrop Kid,
Dixieland Band, Smart Strike and many more.
Sidelines:
DF:
Patricia Griffth at Heritage Farm trained me in the beginning
and now I ride with Scott Stewart and have been with him for
just over a year. He is a great trainer, really positive, helpful and
calm. I love watching him train the young horses. He is one of my
equestrian idols, along with McLain Ward.
Daisy and Zenyatta, the 2010 Horse of the Year. Zenyatta
currently lives on Daisy's family's farm and was featured
on the CBS show 60 Minutes in a segment called, "Is
Zenyatta the Best Racehorse Ever?"
Photo courtesy of Kelley Farish
Daisy competes Cleverist, a pony she owns