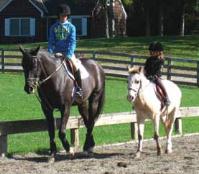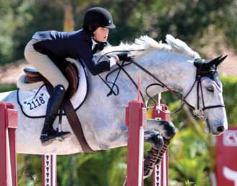 48 SIDELINES SEPTEMBER 2011
FOR HORSE PEOPLE • ABOUT HORSE PEOPLE
Brianne Link -- More Circuit Awards
than Years in the Saddle
By Laura Danowski/Heads-Up Media
At the tender age of 12, Brianne Link is a rare combination
of natural riding talent and modesty. Since 2006, she has
competed every year at the Winter Equestrian Festival
(WEF) and been circuit champion, sometimes on more
than one mount. Other repeat circuit championships
include HITS Vermont and ESP Spring 2010 and 2011
series. In three years of showing jumpers Brianne has
won over $22,000. Her junior hunter qualifed for Devon
2011 and junior hunter fnals. As an ambassador for Just
World International (Guatemala) she has raised $8,940.
Her 2009 contribution of $3,160 re-roofed a school and
refurbished its kitchen. In 2010, $5,780 funded medical
supplies and physician care for a year. And Brianne is not
a stranger to loss – in early 2011 her jumper Esther 126
fractured her leg and was permanently retired. Sidelines
caught-up with Brianne who still giggles when pressed to
talk about herself, to see where her sites are focused.
Sidelines:
What goals are you working on for this year?
BL:
My life-long goal is to compete in the Olympics, but
a closer goal is to be showing grand prix by age 16. My
trainer (James Toon) keeps me focused on now and won't
let me get ahead of myself. He is very strict and pushes
me but always builds my confdence. Right now we are
working on my last jump phobia – not running at it. For
show goals we are planning to move up from the children's
to junior jumpers. My young horse Z (Zet-Es-Zem) and I
are still learning about each other and are not quite ready
for the big jumps - but we are close. Calover is a grandprix
horse; we just got together a few weeks ago and need time
Sidelines:
How do you maintain such correct style without
BL:
I work very hard to be correct with my position,
especially my release, Jimmy makes me ride a lot without
irons which isn't my favorite thing and I spend hours every
week doing fat work to improve my skills. We haven't
decided when I'll do the Big Equitation classes.
Sidelines:
Share your experience as an Ambassador for
Just World International.
BL:
My frst trip was to Guatemala in 2009. As we drove
into the village I asked my mom why was a lady sweeping
the dirt in her doorway and she explained that was their
foor; I was speechless. While I was at Los Patajos I
made friends with a young girl and we became pen-pals.
After awhile her letters stopped. When I returned as an
ambassador in 2010 I learned she died from pneumonia
complications because she didn't have access to medicine
or a doctor. I was devastated and that's what prompted me
to raise money for medical help. I'm so lucky to have what
I do and be able to ride and show.
Sidelines:
How do you view your success?
BL:
I'm proud of what I've accomplished but I actually
spend more time thinking about the things I've done wrong
Brianne Link
and sister
Lainey go for
a little hack
at JT Farms,
South Salem,
NY
and try not to repeat the same errors. I don't ever want to be
one of those people who gets really successful and forgets about
where they came from, why they ride and who develop a bad
Sidelines:
How do you manage your school work?
BL:
My school Ivy League Smithtown is supportive about letting
me be in class three days a week and not on the others. I
started a pen-pal program with my classmates and the children
in Guatemala. We write our letters to them in Spanish and they
write to us in English. My school is hard too – we are learning to
write and speak Mandarin Chinese because it awakens part of our
brain we wouldn't normally use. Sometimes when I'm stuck I try to
talk to Hillary (Dobbs) and she'll share ways on how she balances
riding and going to law school. I really admire her.
Sidelines:
Neither of your parents ever sat on a horse. How did
BL:
I started riding with Masako Niwa when I was four. She
taught me all my riding basics and how to safely fall off of a horse.
Sidelines:
If you couldn't ever ride again, what would you do?
BL:
I would train people to ride because I like to watch my friends
work on things and get better. If I couldn't do anything horse
related, I'd play soccer.
Laura Danowski is a rusty amateur and owner of Heads-Up Media.
She can be reached at laura@heads-upmedia.net
Brianne
Link on Zet-
Es-Zem