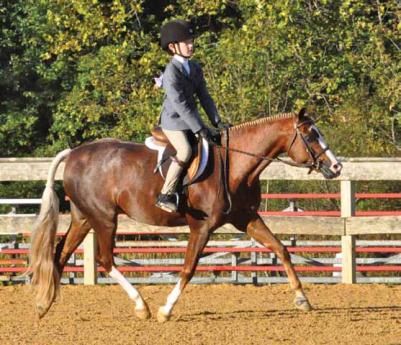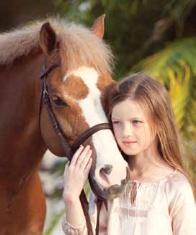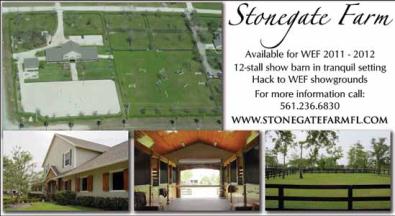 FOR HORSE PEOPLE • ABOUT HORSE PEOPLE 
SIDELINES SEPTEMBER 2011 47
Daisy competed Ballou at
Pony Finals
Sidelines:
DF:
I own a small named Shine and a medium named Cleverist.
I ride Ballou and Elation in the smalls for Dr. Betsee Parker and
they are awesome. Ballou would have to be my all time favorite!
Sidelines:
What do you consider your career highlights?
DF:
Small Pony Champion and Grand Champion at Upperville
2011; Circuit Champion 2010 and 2011 in the Small Pony Hunters
at the Winter Equestrian Festival; Grand Champion 2010 at Devon
and Best Child Rider; Champion Small Pony Hunter and Grand
Champion Pony Hunter and Best Child Rider on a pony at The
Hampton Classic Horse Show 2010; 9th in the 2010 USEF Pony
Medal; 2010 WCHR National
Pony Reserve Champion; and
Champion at 2009 Harrisburg.
Sidelines:
DF:
consistent on all of my ponies
throughout the year. I am also
going to Pony Finals and will
show Ballou in the small ponies
and Cleverist in the mediums. I
haven't decided who I will show
Sidelines:
DF:
to my farm in Kentucky for me
to ride and I work on hills and
fatwork a ton. Sometimes I go to New Jersey with them before a
big series of shows for training and lessons with Scott.
Sidelines:
What do you like to do when you aren't riding?
DF:
When I'm not riding I am usually studying! But I love to do
things like going tubing and hanging out with my friends.
Sidelines:
DF:
I have two dogs that are my own, Murphy who is a Corgi and
Addie who is a Chihuahua.
Daisy and Ballou, her
favorite pony