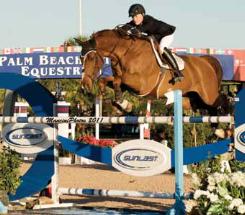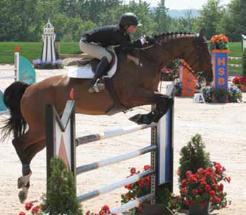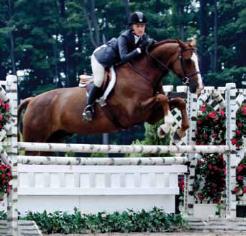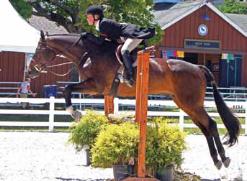 52 SIDELINES SEPTEMBER 2011
FOR HORSE PEOPLE • ABOUT HORSE PEOPLE
Junior Blues
Junior riders are rocking the results at shows everywhere – and Sidelines wants to congratulate all
of them and share their good news! If you know a junior who deserves to be recognized, send in a
paragraph detailing their award-winning news with a photo to jan@sidelinesnews.com.
Liza Finsness
, of Wellington, Florida, rides with Alan
Korotkin at Castlewood Farm. Liza, 16, and Ormsby Hill,
(pictured) qualifed for the Young Rider Championships in
Lexington, Kentucky, representing Zone 4. (Castlewood rider
Samantha Senft is also part of the Zone 4 team). Chef d'
Equipe, Jimmy Torono, said both girls earned their shot to be
part of the team. Congratulations girls and good luck!
Greer Hindle
, who rides with Donald Cheska, showed she
has real talent in the Big Eq classes at the Horse Shows by
the Bay I Show, winning the USEF Platinum Performance
Talent Search and the Washington Equitation Classic (Greer
won both the Hunter and Jumper Phase – way to go girl!) on
her Big Eq partner Freedom. Greer also won the $10,000
Open Jumper Welcome Prix aboard Viper P. and placed sixth
in the $30,000 Grand Prix of Traverse City.
Photo by Robyn Keyster/PMG
Jessica Blum
rode away with the Large Junior Hunter, 15
Years and under Championship on The Real McCoy at the
Horse Shows by the Bay I Show. Jessica trains with Marni
Von Schalburg. Looks like Jessica's horse really is the Real
McCoy!
Kristen Bowman
, one of Louise Serio's talented students,
had excellent results in the Children's 14 & Under Hunter
division at the Brandywine Valley Summer series with her
mounts Rhinebeck (pictured) and Noble Blue. During the
frst week, Kristen won the $500 NAL/WIHS Children's
Hunter Classic with Rhinebeck, and during the second week
she won the $500 M&S Children's Hunter Classic aboard
Noble Blue, while placing second with Rhinebeck. Kristen
and Rhinebeck also took home the third place prize in the
THIS Children's Medal during both weeks of competition.
Talk about fantastic fnishes!!
Photo by Robyn Keyster/PMG