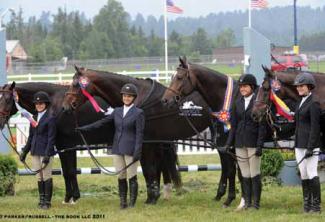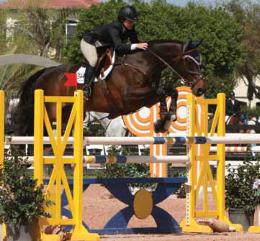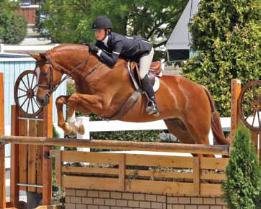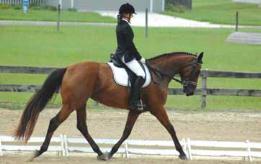 FOR HORSE PEOPLE • ABOUT HORSE PEOPLE 
SIDELINES SEPTEMBER 2011 53
The riders of Callan Solem Show Stables
had
great success at the Lake Placid Horse Shows.
Left to right:  
Rebecca Patterson, Meggin
Patterson, Elle Turner
and
Rose Borzillo.
Rebecca and her mare Lalique earned the
Modifed Children's Hunter Championship during
the frst week, and then the duo advanced to the
next level, taking home the Children's 14 & Under
Hunter Horse Championship. Meggin returned
to the ring for the frst time in many months with
her mare Noblesse Oblige. The pair competed
in the Low Adult Jumper division where they
won two classes for the championship prize. In
the Children's 15-17 Hunter Horse division, Elle
and Walk On led the way, winning the Grand
Champion Children's Hunter title, after sweeping
the over fences classes during the frst week.
Rose and Flying Dutchman won the Children's
15-17 Jumper Championship. Congratulations to
a great group of girls!
Photo by James Parker/Kathy Russell, The Book LLC
Lene Bruheim
and NLF Valhall won the Children's Jumper
Championship at the St. Clement's Saratoga Horse Show II. The
duo earned a frst place ribbon and a second place ribbon to take
home the leading title. Way to go Lene!
Photo by Rebecca Walton/PMG
Jane Maguire
had a terrifc week aboard Nickleback, owned by
Barnes Brooks, in the Large Junior 16-17 Hunter Division at the
Brandywine Valley Summer Series. After winning two classes
they scored the championship prize during the second week, as
well as the Grand Large Junior Hunter Championship and the
Circuit Championship for the Large Junior 16-17 Hunter division.
Louise Serio of Derbydown trains the talented duo.
Photo by Rebecca Walton/PMG
Heather Holman
, 15, of Ormond Beach, Florida, competed her
fve-year-old Trakehner mare, Harmonie NSF, at the dressage
Summer Sizzler 1 show at Canterbury Showplace in Newberry,
Florida. Heather and Harmonie certainly rocked the results,
riding away as Grand Champion and Best Turned Out Horse for
Training Level adult amateurs and junior young riders! Heather
and Harmonie earned scores of 66.7% and 70.7% in Training
Level Two and 69.2% and 69.2% in Training Level Three to take
home three frsts and a second. "I couldn't have gotten any
of these scores without the help of my fabulous trainer, Gwen
Poulin, and the help of Sarah Plante, the owner of Harmony
Woods Training Center, the barn I ride at," Heather said.
Congratulations to Heather and her lovely mare, keep earning
those great scores!
Photo
courtesy of Heather Holman