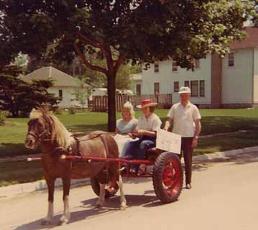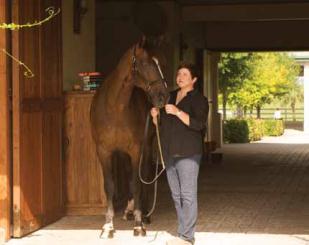 FOR HORSE PEOPLE • ABOUT HORSE PEOPLE 
SIDELINES SEPTEMBER 2011 65
horses to University of Findlay, what was behind that
TH:
I had a terrifc FEI prospect in a gorgeous boy
called Fhilosopher. Unfortunately, Fhil developed
some physical limitations that would prevent him from
achieving those top-level goals.  I didn't want to sell
him, because I knew no matter what any buyer might
say, they would not be able to resist the temptation
of pushing him beyond what he was comfortably
physically able to do.  Instead, I chose to donate him
to Findlay where I knew he would be doted on by
teenage girls every day of his life, and he could be a
superstar at the lower levels.  It was a win-win for all
Sidelines:
What do you like best about horses?
TH:
Their honesty.  You always know where you stand
Sidelines:
To all aspiring writers and riders out there
Sidelines
, what advice can you share from
TH:
Make a goal and don't let anybody tell you that
Destined For Greatness
Tami may be a world-famous author with a stable full of
gorgeous Grand Prix horses; but
Sidelines
interested to know that Tami grew up in a non-horse family. Like
most horse-crazy kids, that didn't stop her from wanting a pony
and asking for one every chance she got!
Tami's persistence paid off when her parents bought her a
Shetland Pony named Dan. Like most ponies, Dan thought his
new rider needed to learn a thing or two and took it upon himself
to teach her. "Dan was a wise old soul, and would never do
anything he believed was beyond my capability as a rider. For
the frst year I had him, he would NOT canter. No matter how I
tried to coax him, irritate him, beg him, bribe him, he absolutely
would not canter -- until I became a better rider with better
balance and was in no danger of just falling off. He really was
my best friend and constant companion," Tami said.
Tami was goal-oriented even at an early age, and didn't let
the fact that she didn't own a saddle hold her back. "I did have
a cart and I learned to hitch Dan up myself and drove him all
over town. I drove him in parades and hung advertising for local
businesses on my cart, which earned me money to save up for
a new saddle," Tami said.
Writer from the Get-Go
While Tami started her riding career at an early age, her
writing career also blossomed when she was in the third grade.
She wrote her frst book, a self-published, self-illustrated school
Black Pony
, the catalyst for what would become
Tami's love for storytelling. While Tami now writes thrillers that keep readers sitting on the edge of their seats, tingling with fear, she
started her career in a far different fashion. Tami's frst books were for Bantam's Loveswept line of romance novels, and in typical
Tami fashion she did it with gusto, writing 16 titles in fve years.
When Tami began writing mysteries, Hollywood came calling and turned her thriller
Night Sins
into a mini-series. Produced in
1997, the two-part mini-series stars Valerie Bertinelli and Harry Hamlin, and still runs on cable and continues to get great reviews.
Not surprising for a little horse-crazy girl from Minnesota who always fgured that if someone was going to make it big, it might as
Tami, in her red cowboy hat, shows off her Shetland Pony, Dan.
Notice the sign on her cart – Tami charged local businesses to
advertise on her cart, which helped her save enough money to
buy a saddle for Dan.
Tami and Bacchus, one of her Grand Prix partners