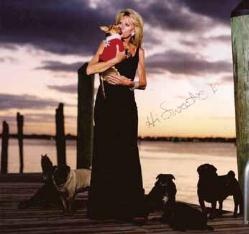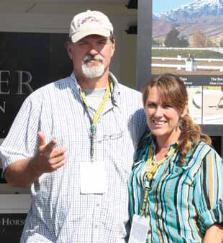 66 SIDELINES SEPTEMBER 2011
FOR HORSE PEOPLE • ABOUT HORSE PEOPLE
Catching up:
Cesar Parra
is hot, hot, hot in Europe. At
his frst two shows in Germany he is three for three winning
Michael and Sarah's Davis'
Grandioso
Dave
and Taunia Reed's
Agastrofos
.
defend his title at Gladstone but for now he is "loving life
Adelinde Cornelissen
Jerich Parzival
No. 1 in the latest dressage rankings, replacing
Edward
Gal
Totilas,
although their last competition was nine
months ago. Great Britain's
Laura Bechtolsheimer
Mistral Hojris
take over second place with Germany's
Ulla Salzgeber
Herzruf's Erbe
and the super-stallion Totilas had held the top spot for 19
months from Dec. 1, 2009 to June 30, 2011. Adelinde, 31,
of The Netherlands, had been No. 1 for three months prior
to Edward and Totilas taking over.
Steffen Peters
Weltino's Magic
Jen
Hlavacek
, had a great time at the
CHIO Aachen
strong performances, winning the Preis der VUV-Vereinigte
Unternehmerverbände Aachen. The class was the Prix St.
Georges of the small tour, and the 9 year old Westfalen
gelding received judges' scores of 71.053, 73.553, 72.632,
75.000, and 70.658 for a total percentage of 72.579. USEF
Dressage Technical Advisor
Anne Gribbons
Steffen's expert guidance, Weltino's Magic made a grand
debut in Europe at the small tour. Hearing our national
anthem after the Prix St. Georges, which was the frst class
of the event, made the U.S. team feel like we are off to a
Footing woes:
It's old news by now, but if you hadn't
heard, seven of eight rider and horse combinations withdrew from the Grand Prix at the
Pebble Beach CDI3*
protest by competitors over the quality of the footing. Prior to the
competition, riders said that the sand ring was too deep, uneven
and hard in the corners at the Pebble Beach Equestrian Center.
Cyndi Jackson
Strauss
showed
cent. The protest was the latest in the chorus of complaints in the
U.S. and Canada over the quality of footing at many horse shows
So guess what's happening on the site of the old polo stadium
PBPCC
? Dressage rings! Six of them, actually. We're told
that by December, everything will be in place to launch a
Global
Dressage Festival
for 2012. "This is a huge deal," said
Ken
Braddick
, who runs the Wellington-based website
dressage-
news.com
. "Top riders are talking about what is happening in
Caroline Roffman
last year's Markel/USEF National Young Horse Championship
in Lamplight, Illinois, Caroline and her Hanoverian gelding
Bon
Chance
won the Five-Year-Old division. This year, she's taking
three horses to the National Young Horse Championships and the
Developing Horse Championships;
San City
Bon Chance
in the Six-Year-Old division,
and her Hanoverian gelding,
Pie
will enter the Developing Horse
Holly Johnson
took a month long tour to ride
with Lipizzans in California. A Florida native, she enjoyed seeing
California from the top of one of the White Stallions!
Passing:
On a very sad note, the dressage world lost
Carla
Morrison
this summer. Carla is best remembered for her
morning rides at her Sympatico Farm next to Stillpoint. She
called everyone "Sweetie" and passed her 20 karat diamond
ring around the table at horse show dinners for all of us to try
on. Carla lost her husband Pedro in 2003. Pedro was an avid
polo player. Along with her horses, Carla was always seen
with her entourage of pampered pups. Provisions are being
made for her beloved animals who will miss her as much as
we do.
'Lacks engagement' is not a comment that Heidi
Zorn will be seeing on her "dressage test" ~ Premier
Equestrian partners, Heidi Zorn and Mark Neihart got
engaged last month after a 23-year relationship! Well
know one can accuse these two of "rushing in". All the
best for the happy couple