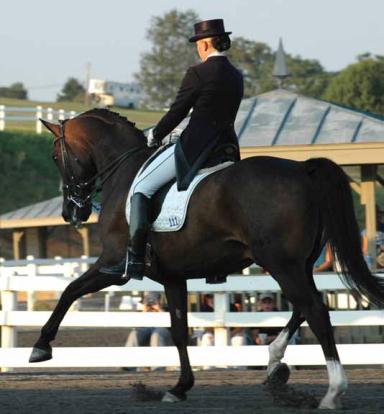 68 SIDELINES SEPTEMBER 2011
FOR HORSE PEOPLE • ABOUT HORSE PEOPLE
By Jan Westmark-Allan
If Dressage Olympian Robert
Dover, one of America's most
decorated dressage riders, stopped
by your barn and asked you for
a favor, would you do it? Most
people would probably say, "Yes, of
course!" While the idea may seem
farfetched, it really isn't. Robert
recently celebrated a birthday and
instead of stopping by your barn to
tell you his birthday wish, he wrote
it on his website, Doversworld.com.
Robert is asking dressage riders all
across America to donate money
to The Emerging Dressage Athlete
Program, a program he believes is
vital to the future of dressage in our
The Emerging Dressage Athlete
Program was developed by Lendon
Gray, a fellowOlympianwithapassion
for teaching kids. Lendon based the
program on the U.S. Hunter Jumper
Association's Emerging Athlete
Program, which has had incredible
success. Lendon asked Robert and
Courtney King Dye to join the effort
"If 50,000 people gave $5 we could
have the funding for this program,"
Robert said. "I thought if we asked
everyone in the industry, instead of
going back to the same small pool of
people that we always ask for money,
that we could make this work."
Robert wrote on his blog, "For
my birthday, I ask you to go to
Dressage4Kids.com and fll out the
contribution form with however much
you feel you can give comfortably so
our kids can have the very best youth
program in the world to nurture them
as our future Olympians. Such a huge undertaking is vital
to the future of our country if we want to someday stand as
a team on the highest Olympic podium and receive Gold
Medals! But that also requires that this great new program
is suffciently funded and so far we are way below what we
Between Robert, Lendon and Courtney, they have
competed in nine Olympics, 10 World Cups and have
trained horses and coached riders at international
competitions and National Championships. With that kind
of talent standing behind the program, just think of the
training these young dressage riders – our future United
States' Olympians – will receive. But the program does
"I am adamant that we have to go on with this program
and if people jump on board it will be a success. We need
this program to become an extraordinary world-class
program and we need to raise between $100,000 and
Robert Dover's Birthday Wish!
$200,000 to get it up and running, so I am asking everyone to
donate," Robert said, adding that because it is a non-proft 501(c)
(3) all donations are tax deductible. "It is very important that we
The Dressage4Kids.com website details the program, designed
for riders under the age of 21, and how it will work, including
regional and national clinics taught by Lendon, Robert and
Courtney. "The depth of our dressage future will come from our
kids and how they are being brought up. We are looking for rising
stars," Robert said. "By the time I was 15 years old, I was being
mentored – which continued throughout my career – just like
Lendon mentored Courtney."
To learn more about the Emerging Dressage Athlete Program,
go to Lendon's website, www.Dressage4kids.com. There is a link
on the page to make a contribution. As a belated birthday present,
Robert is asking everyone to make a donation. What will you do?
Hopefully you will pull out your credit card, turn on your computer
and help be part of something really big.
Robert Dover is asking dressage riders all across America to donate money to The
Emerging Dressage Athlete Program, a program he believes is vital to the future of
dressage in our country
Photo by Lauren R. Giannini