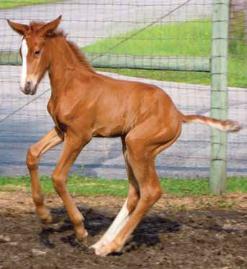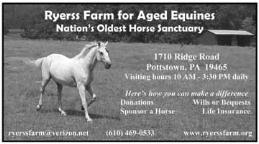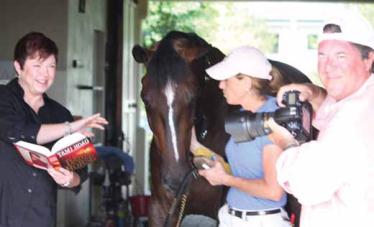 FOR HORSE PEOPLE • ABOUT HORSE PEOPLE 
SIDELINES SEPTEMBER 2011 67
Here's the newest and cutest new face at Bethany Peslar's
Everglades Dressage. This little flly is by Rousseau out of
Bethany's mare Waldora, aka "Princess" is practicing her
canter pirouettes at less than a week old! Watch for this little
spitfre in few years!
On the international news front,
Dr. Paulo Gonzaga
23rd International
Lusitano Festival
Portugal for his promotion of
the breed in the United States
and Latin America. The festival
attracted thousands of people
and breeders from all over the
world and during the emotional
Arsenio Raposo
Cordeiro
on his many years of excellent
The Start Box:
Will Faudree
Will
Coleman
event riders in England have
been having a grand time on the
Burghley CCI****.
Will Faudree is the frst featured
rider in a new column called
'Drop Dead Gorgeous'
run by a regional publication
Chiltern & Thames Rider.
It promises to be great fun, but
how funny that of the four participants Eurospy sourced for the
magazine, two of them have come from the US. "We don't breed
them the same here, sadly," says Eurospy. "Most of them are Irish
Lions and tigers and bears, oh my? Well, lions for sure.
African Horseback Safaris
said that Olympic gold medalist
Mark Todd
has decided to extend his stay later this year
for a further 5 nights! Limited space is available on this
escorted safari at Macatoo camp between 2nd and 7th of
December 2011, so book now to avoid disappointment.
The professional organization that promotes equine-assisted
activities and therapies to improve the lives of people with
disabilities has a new name: the
Professional Association of
Therapeutic Horsemanship International (
NARHA (North American Riding for the Handicapped
Association)
, PATH International better expresses the scope of
the 42 year old organization whose 6,300 therapy horses and
3,500 instructors serve 42,000 children and adults with physical,
mental and psychological challenges at 800+ member centers
News to share: New baby, engagement, pickup truck? On
the move, having parties, falling off horses? Share what's
happenin' with your dressage friends by e-mailing us at editor@
sidelinesnews.com. Be sure to put "News Off Centerline" in the
subject line.
Murder Mystery Writer Shot-----We caught photographer Jack Mancini shooting murder
mystery writer and rider, Tami Hoag for the cover of Sidelines, that is!