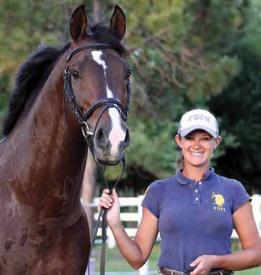 70 SIDELINES SEPTEMBER 2011 
FOR HORSE PEOPLE • ABOUT HORSE PEOPLE
AVisit with Liz Austin
By Jan Westmark-Allan
Liz Austin grew up in a horse family and even though
she was never pressured to ride, her goal was always
to be at the barn and on a horse. "My mom, Madeleine
Austin, started her own farm in the early 1970s. She
competed very successfully in eventing and then switched
to dressage, where she competed through Grand Prix,"
Liz said. "My mom made sure that I did some jumping,
eventing and general kid-adventuring-on-horseback, but I
always loved dressage."
At 27, Liz has already made her mark on the dressage
world including winning the inaugural Brentina Cup in 2006
and again in 2007 on Olivier, a Dutch Warmblood stallion.
Liz got her start, however, on a hot and very diffcult horse
named American Pie.  "Pie was the frst horse I trained and
competed to FEI.  He taught me so much about patience
and perseverance and I really owe so much to him.  In
2001 I got the ride on the wonderful Dutch Warmblood
stallion, Hierarch, and he really was the one that fueled
my desire to compete internationally.  We competed
very successfully at the North American Young Rider
Championships, including winning the individual silver
medal in 2004.  We still have Hierarch, and at 22-years-
old he's still in work and loving every minute of it."   
Sidelines:
LA:
We call him Fizzy, and he is amazing.  My mom bred
him so I have known him since he was just minutes old.
He has always had an incredible presence and extremely
demanding personality, especially when it comes to
attention and food!  I rode him a little when he was a
youngster, but didn't really take over the ride on him until
he was seven.  We competed a little bit at 3rd and 4th level
and did one show at Prix St. Georges and then when he
was 10 we moved up to the Intermediaire II.  Since then
we've moved to the Grand Prix and had the opportunity to
compete with the best in the world.  It's been a whirlwind
Sidelines:
What do you like best about Olivier?
LA:
What I love about Fizzy the most is his temperament.  I
can literally take him anywhere and know he is going
to stay with me. Last year we performed a "Queen"
freestyle at the Equine Affaire in Massachusetts for
three nights with thousands of people in the audience for
each performance.  For our ride the ring was completely
dark with only a spotlight on us.  Combine that with the
audience going wild with applause and cheering every
time we did something cool -- one tempis, piaffe, passage,
extended trot -- and you have a potential recipe for disaster. 
He was absolutely incredible.  It was one of the greatest
experiences I've ever had with a horse -- that complete
and utter feeling of trust and a true partnership. 
Sidelines:
You have had great success with Olivier, what
do you consider some of the highlights?
LA:
Fizzy and I qualifed for the Festival of Champions in
Gladstone last year and we were long listed for the World
Equestrian Games.  As luck would have it, my usually
ridiculously healthy stallion got scratches for the frst time
in his life the week before Gladstone.  We tried to treat them, but
ended up not being able to resolve them without having to give
him some heavier medications and so we had to withdraw from
the rest of the championships.  This year we are hoping to qualify
again for the Grand Prix.  I believe we're currently ranked 13th
and they take the top 15 riders.  Fingers crossed!  
Sidelines:
What are your riding goals?
LA:
  Fizzy has taken me on a huge, life changing adventure into
the world of the highest levels of our sport.  I'd like to take him
as far as we can go, and then see him retire happily for many
years to stud.  We have a deal if he takes me to London for the
2012 Olympic Games, that afterward he can immediately retire
to breeding, trail riding and maybe a few fun demonstrations.  As
for my long-term goals, at the end of the day I want to be a great
trainer.  I want people to see horses I've trained and think they
are beautiful and fnd them easy and fun to ride.  And I want my
Sidelines:
You own Liz Austin Dressage in Vermont and Florida,
where you have a lot of young horses. What do you like about
LA:
I think young horses are amazing.  It's especially fun, and
in my current situation because of my mom's breeding program,
I've known many of the horses I ride since they were born.  They
don't have baggage or bad experiences but instead they are
honest, straightforward and like sponges.  I am riding the two
most amazing four-year-olds right now - Coltrane (by Olivier
out of the Grand Prix mare Fellina, by Doruto) and Copland (by
Thatcher, out of Olivier's half-sister, Galatea, by Argus.)
Sidelines:
Do you have any young horses that you think will
Liz and Olivier, known as Fizzy, a stallion with a big personality